Crain still not feeling 100 percent
Crain still not feeling 100 percent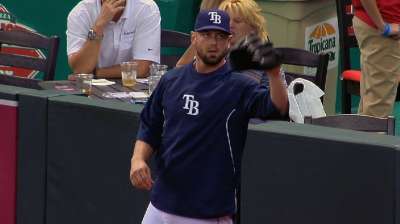 NEW YORK -- Jesse Crain has not been available to pitch since Monday, when he warmed up but did not pitch against the Orioles.
Had the veteran right-hander pitched on Monday, when he was reinstated from the 60-day disabled list, it would have been his first appearance for the Rays since they acquired him from the White Sox on July 29.
Crain's shoulder "just does not feel 100 percent right when finishing, throwing the baseball," manager Joe Maddon said. "That's it. It's not awful, it's not terrible. So we just have to stay with it. By tomorrow he might feel really good about it. We might actually use him in the game, I don't know. It's just been kind of a day-to-day thing. Some days he's felt a little better than others, but nothing's been horrid. It's just not quite there yet."
Maddon said that Crain would have pitched had they needed him on Monday but added that Crain was not available on Tuesday.
"He didn't feel as good as the day before," he said. "He knows what that's like. When it comes to veteran players, I really listen to them, and I trust them. I trust him. I've watched the work between him and [head athletic trainer Ron Porterfield]. Truly, we wanted to get him out there. Thought it was going to happen the other night. Game situation didn't permit it. I don't know the next couple of nights if he's going to be able to play or not."
When a reporter pointed out that the prospect of Crain not pitching for the Rays this season seemed a possibility, Maddon replied, "I don't deny that. But it's possible that he can."
Bill Chastain is a reporter for MLB.com. This story was not subject to the approval of Major League Baseball or its clubs.