Maddon says Rivera best closer ever, 'no argument'
Maddon says Rivera best closer ever, 'no argument'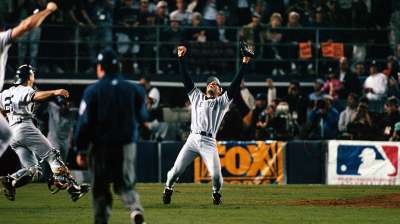 NEW YORK -- Manager Joe Maddon was in Anaheim for Mariano Rivera's Major League debut, when the famed Yankees closer started against the Angels. Maddon served as the Angels' first-base coach that day and watched his team beat the Yankees, 10-0.
Also on hand that day was Rays TV broadcaster Brian Anderson, who pitched for the Angels but was on the disabled list at the time.
In addition, while serving as bench coach under Angels manager Marcel Lachemann, Maddon got to see Rivera's first save, on May 18, 1996, in New York. Kenny Rogers got the win in a 7-3 Yankees victory.
When asked in jest if he knew Rivera would be great the first time he saw him, Maddon chuckled: "I knew he wasn't a good starter."
In a more serious tone, Maddon spoke of Rivera's legacy.
"I was talking to somebody about that," he said. "A lot of times, they have arguments about who was the best center fielder. … I mean, in this city, who was it -- Duke, was it Mickey, was it whomever? There's no argument about who was the best closer ever. There is no argument. Nobody can argue that he's the best at what he's done in baseball. When you're the best without any arguments, that really concludes how good he was."
Bill Chastain is a reporter for MLB.com. This story was not subject to the approval of Major League Baseball or its clubs.