Zito's swan song ends with solid win over Dodgers
Zito's swan song ends with solid win over Dodgers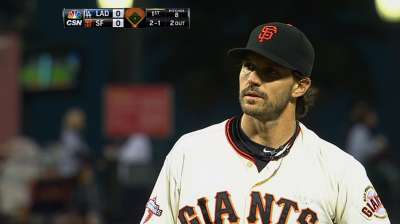 SAN FRANCISCO -- Barry Zito ended his Giants career in upbeat fashion. A few years ago, that might not have seemed possible. For that matter, it appeared unlikely a few days ago.
But if Zito's eventful tenure with San Francisco has proven anything, it's that he's resilient. Repeated losing seasons never extinguished his spirit. Nor did the expectations resulting from his lucrative contract.
Zito persevered one final time Wednesday night at AT&T Park. Given a start against the Los Angeles Dodgers as essentially a tribute from manager Bruce Bochy, Zito earned the decision in the Giants' 6-4 victory.
"My last time in a Giants uniform, I wanted to end it in style," said Zito, whose seven-year, $126 million deal -- the largest ever received by a pitcher when he signed it in December 2006 -- expires after this season.
Though Zito compiled a 63-80 record as a Giant, he judged his days in San Francisco as "95 percent great and the other 5 percent terrible." His prominent role in the team's 2012 World Series triumph accounted for his mostly positive sentiment. After the Giants won his last 11 regular-season starts, Zito saved the team from elimination in the National League Championship Series by pitching 7 2/3 shutout innings in Game 5, then defeated Detroit ace Justin Verlander in Game 1 of the World Series.
Zito couldn't sustain enough of last year's magic this season. He twice was removed from the rotation, prompting him to say that being asked Tuesday to face the Dodgers was an "unexpected" occurrence.
The left-hander managed to work five innings -- an admirable effort, considering he had pitched four innings since Aug. 27. He allowed two runs, only one of which was earned. Zito struck out only one batter, but issued no walks -- characteristic of a pitcher who wouldn't beat himself.
"I felt so good being able to end the season on a good note. There have been so many lows for me this year, both on the field and off," Zito said, referring not only to his demotions from the rotation but also to the death of his father, Joseph.
Indeed, Zito has weathered adversity almost constantly since joining the Giants. He finished with losing records in each of his seasons with the Giants except 2012. Bochy omitted him from the 2010 postseason roster after he went 0-9 during a late-season stretch.
Zito handled everything, from successes to letdowns, with poise and grace.
"There's lots of stuff that he could complain about. I've never heard him say a negative word about anything," left-hander Madison Bumgarner said. "He's a lot tougher than people realize. He's a gentleman in the game and he's a competitor. He's truly a good teammate, one of the best teammates I've had in my short career so far. It would definitely be hard to top him."
Said second baseman Marco Scutaro, "He's an unselfish guy. He's always thinking team first. He's a great example. It's unbelievable. ... I really admire him for the way he handled everything and the way he worked, prepared and tried to get better every time."
Zito twice demonstrated the competitiveness Bumgarner cited. He remained in the game after Nick Punto's line drive struck him on his left thigh to open the fifth inning. Then, when Bochy lifted him for pinch-hitter Roger Kieschnick in the bottom of the inning, television cameras caught Zito's unhappy reaction.
"I let [Bochy] know this is my game," Zito said. 'He said, 'All right,' and walked away. I went to get my bat and he had second thoughts, so I was frustrated. But I understand."
Said Bochy, "There's not a better competitor. He wanted to stay out there and do all he could to help us win the game. That's a tough call. He almost had me talked out of it."
The manner of Zito's removal also denied him the glory of a curtain call from the fans. Asked about this, Bochy said with mild sarcasm, "I guess I could have let him hit."
Bochy added, "We were thinking about winning the game. That's not a situation where you're thinking about a curtain call, to be honest."
If Zito felt upset about not receiving one last ovation, he disguised it well.
"There's not a lot of chance for closure in sports," said Zito, who spent his first seven Major League seasons with Oakland.
Zito (5-11) was backed by Tony Abreu's career-high four RBIs. Abreu's biggest hit was a bases-loaded triple in the second inning off Dodgers starter Ricky Nolasco (13-11). Buster Posey doubled, Hunter Pence walked and Pablo Sandoval singled before Abreu golfed a 2-1 pitch to deep right-center field, where Yasiel Puig couldn't quite catch up with the ball.
Matt Kemp's RBI double and shortstop Brandon Crawford's misplay on Jerry Hairston Jr.'s two-out grounder narrowed the difference to 3-2 in the fourth, but the Giants responded in their half of the inning with Sandoval's two-run homer. Abreu was in the middle of the scoring for both teams in the sixth, committing a fielding error that generated a run for the Dodgers before blooping an RBI double to right-center field.
Carl Crawford doubled and scored on Kemp's eighth-inning single to keep the Dodgers close before Sergio Romo worked the ninth to notch his 37th save and preserve Zito's 165th career victory.
Will Zito try to keep pitching next year?
"I have no idea," he said. "I've never encountered a situation like this in my career. ... I'm taking every day one at a time right now. It's not time to get ahead of myself. I'm sure I'll be setting my goals soon."
Chris Haft is a reporter for MLB.com. This story was not subject to the approval of Major League Baseball or its clubs.