Nolasco's woes continue in last start before playoffs
Nolasco's woes continue in last start before playoffs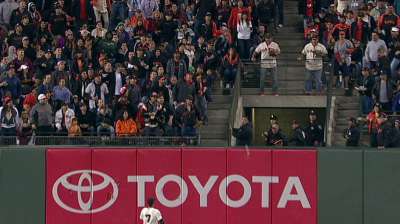 SAN FRANCISCO -- No telling who will be on or off when the Dodgers turn in their postseason roster next week, but on Wednesday night, manager Don Mattingly was defending Ricky Nolasco after the right-hander's third consecutive rough start.
The way Mattingly talked, Nolasco still is the likely fourth starter for the best-of-five National League Division Series that starts next week -- even though he allowed the Giants six runs in 5 2/3 innings and has given up 17 earned runs in the last 12 innings over those three starts after reeling off seven consecutive wins.
Two of the three starts were against the Giants, a team Mattingly said Nolasco doesn't match up well against, and it's hard to argue that as the Giants have scored 11 earned runs in seven innings this month off him. Four of the runs in this game were driven in by former Dodger Tony Abreu on a triple and double that right fielder Yasiel Puig could have caught, but didn't.
Of course, it wasn't Puig who loaded the bases with no outs in the second inning before Abreu cleared them by driving a triple over Puig's head. And it wasn't Puig who walked Hunter Pence in the sixth inning before Puig broke in late on Abreu's bloop double that fell despite Puig's diving attempt.
"When that ball went up, somebody, it's up there a long time," said Mattingly, "When the ball goes up, it ought to be caught. Maybe he was playing deeper after the first one went over his head, or he broke back, I don't know."
Nolasco, whose late-season form reversal adds intrigue to the postseason roster watch, dismissed any suggestions that he's ailing.
"I feel good; I was making quality pitches," insisted Nolasco, whose fastball has dropped about three miles an hour since last month. "Things are not going my way. I've pitched long enough to know good things can happen and bad things can happen, you just keep battling. My confidence is there. I hope it'll turn around and I'll catch a couple breaks and go from there."
Mattingly has said Clayton Kershaw and Zack Greinke would start the first two games of the playoffs, but he stopped short of confirming Nolasco's status. Hyun-Jin Ryu is expected to be the third starter, but Mattingly hasn't confirmed that, either. Fifth starter Edinson Volquez really has no obvious role.
"Your guys are your guys," Mattingly said. "You're not all of a sudden going to do something different. If Adrian [Gonzalez] struggled the last week, you just stop playing him? They're your guys.
"[Nolasco has] shown us he can throw the ball really well, he can make good pitches. I don't think Ricky has done anything to change our minds that he's a quality starter."
The Dodgers' offense posted four runs, two off Barry Zito, who likely was making his last start as a Giant. The Dodgers' lineup did not have Hanley Ramirez, Gonzalez, Juan Uribe and Mark Ellis (all being rested), as well as Andre Ethier (ankle sprain). But Matt Kemp had three hits and two RBIs, while Carl Crawford had two hits and scored twice and Gonzalez had a pinch-double before Ramirez ended the game grounding out as a pinch-hitter.
Nolasco was in a mess in the second inning, when Buster Posey doubled inside third base, Pence was hit on the knee with a pitch and Pablo Sandoval singled to left to load the bases with no outs. Brandon Crawford, after missing an extra-base hit down the left-field line by an inch, struck out.
Abreu lofted a long fly ball into the jet stream that a shallow Puig couldn't run down, then couldn't pick up. Puig did hit cutoff man Skip Schumaker, who might have had a play at the plate on a late-breaking Sandoval, but Schumaker ran the ball in as the third run scored.
Zito was perfect through three innings, then the top of the Dodgers' order struck. Puig and Carl Crawford singled and Kemp doubled off the left-field fence, scoring Puig with Crawford stopped at third. Michael Young bounced back to the box for the first out and A.J. Ellis fouled out.
Jerry Hairston grounded up the middle and off the glove of shortstop Brandon Crawford, ruled an error, as Carl Crawford scored and Kemp was held at third. Abreu made a nice glove stope and flip of Schumaker's roller for an inning-ending force at second.
The Giants tacked onto their lead in the bottom of the fourth with a leadoff single by Posey and a one-out homer by Sandoval, the first allowed by Nolasco since Aug. 18.
"I thought it was a good 2-1 curveball," said Nolasco. "I saw it on tape and he did a good job hitting that ball out. Tip your cap."
Abreu gave the Dodgers an unearned run back when he failed to catch a throw from Sandoval after a Young grounder to put runners on the corners with no outs in the sixth. Ellis' sacrifice fly cut the deficit to 5-3.
But the Giants scored again in the bottom of the sixth on a leadoff walk to Pence and a two-out RBI bloop double by Abreu that dropped in front of Puig, who overcompensated for the earlier Abreu drive by breaking late on this one.
Ken Gurnick is a reporter for MLB.com. This story was not subject to the approval of Major League Baseball or its clubs.