Royals' playoff hopes end against Mariners
Royals' playoff hopes end against Mariners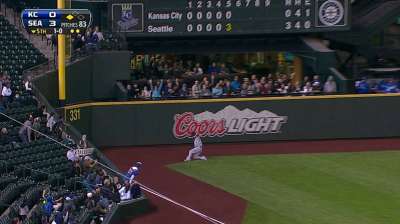 SEATTLE -- Right to the end, the Royals thought they had a chance to be playing in October.
"None of these guys have bought a ticket to go home," pitcher Bruce Chen said before Wednesday night's game against Seattle.
Now the Royals can make some travel plans. After an exhilarating and dogged late-season effort, Kansas City was finally eliminated from postseason contention in a 6-0 loss to the Mariners and Hisashi Iwakuma at Safeco Field. The Royals' loss coupled with Cleveland's win ended their last mathematical hope.
The Indians, with 88 victories, are leading the race for the second Wild Card spot in the American League. The Royals, with 83 wins, have just four games left and can no longer catch up.
Texas is the only team left that can overtake Tampa Bay or Cleveland for a Wild Card berth.
"I think we've made a lot of progress as an organization, and I think it was a giant step forward for us, and I think it was a step we definitely needed to take this year," Royals manager Ned Yost said. "We gained a lot of valuable experience, and I'm proud of the way they bounced back so many times this year after little rough periods. I expect them to do the same in Chicago."
After an all-night flight from Seattle to the Windy City, the Royals take on the last-place White Sox with four games at U.S. Cellular Field to end the season.
Iwakuma pitched eight scoreless innings, allowing just four hits and one walk with nine strikeouts, and reliever Charlie Furbush finished the job. It gave the Mariners shutouts on successive nights over the Royals.
"Back-to-back shutouts," left fielder Alex Gordon said. "You're not going to win many games scoring zero runs. It's a tough way to go out."
The Royals had not been blanked in two straight games since May 22-23, 2009, in St. Louis. This was the third time the Mariners had done it to Kansas City -- but the first time since 1989.
Iwakuma, 14-6, has pitched 23 consecutive scoreless innings. Earlier this season, he had a streak of 23 2/3 scoreless innings. He lowered his ERA to 2.66 for third best in the AL.
"He's an All-Star-caliber pitcher," Yost said. "I think he's given up one run this month, and he held true to form again tonight. He handcuffed us; we couldn't do anything."
Royals starter Ervin Santana opened with four scoreless innings himself. He was the beneficiary of a great stop and throw behind second base by shortstop Alcides Escobar in the third.
"It was one of the tons that he's done for me," Santana said. "It was a good one."
But in the bottom of the fifth, the Mariners struck for three runs. Santana's first pitch of the inning was belted high over the left-field wall by Mike Zunino.
After an out, Brad Miller doubled down the right-field line, and Nick Franklin walked. When Santana attempted a pickoff at second base, he heaved the ball into center field, and both runners advanced on the error. Kyle Seager doubled to right field, scoring two more runs.
Santana pitched into the seventh, but, after a leadoff double by Dustin Ackley, Yost decided to pull him and took an extra minute or two with his right-hander on the mound.
"I just told him he's had a great year," Yost said. "I sent him back out because I wanted to see if I could get him through the inning in case we could score. But my mindset was if anybody got in scoring position, I was going to go get him, and I just told him, 'You know, Erv, you had a great year. I'm real proud of you.'"
Santana finished with a 9-10 record. 211 innings pitched in 32 starts and a 3.24 ERA in his first year with the Royals. Will it be his only year? He will be a free agent this winter.
"I don't think about that at all; I just tried to focus and do my thing," Santana said. "If I'm going to be here, I'm going to be here, so I'm not going to worry about it right now."
Santana was relieved by left-hander Will Smith, who had a tough time. After fielding Miller's bunt single, Smith made a poor throw, and Ackley scored on the error.
In the eighth, Michael Saunders and Zunino belted back-to-back home runs off Smith.
The Royals' run at a playoff berth was over. But it was fun while it lasted.
"Any time you're in contention to the last five games of the year, it's definitely going to make it fun," Yost said.
"It was better than the last couple of years, so it was good to see some progress," Gordon said. "But it's not what we wanted at the end. We put ourselves in a situation to maybe find a way to sneak in but came up a little short."
Even so, a winning record is assured, and hopes for the future are high.
"We get to build on this for next year," designated hitter Billy Butler said. "We had a good run, and the guys in here played hard, and it's something to be proud of."
Dick Kaegel is a reporter for MLB.com. This story was not subject to the approval of Major League Baseball or its clubs.