Iwakuma wraps up year with eight scoreless
Iwakuma wraps up year with eight scoreless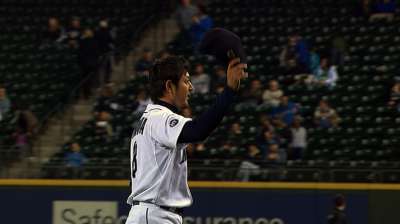 SEATTLE -- Hisashi Iwakuma closed out a strong 2013 campaign with eight scoreless innings for a second straight game Wednesday as the Mariners topped the Royals, 6-0, at Safeco Field.
Rookie catcher Mike Zunino crushed two home runs to help Seattle take two of three to win the series and officially eliminate the Royals from Wild Card contention.
But the storyline for the Mariners again belonged to Iwakuma, who scattered four hits with one walk and nine strikeouts on the heels of eight scoreless innings on four hits in an 8-0 win last week in Detroit.
"He's special," said Mariners third baseman Kyle Seager, who contributed a two-run double to the cause. "Ever since he became a regular starter, he's been one of the best pitchers in the game. You get guys coming to third base all the time talking about how nasty he is and how the ball's moving all over the place and you can't get a good swing on him. That's about as good a compliment as you can get."
The Mariners spotted Iwakuma a 3-0 lead in the fifth with Zunino's first blast and Seager's double, while Michael Saunders and Zunino capped off the night with back-to-back blasts in the eighth. Dustin Ackley scored on an error in the seventh.
Iwakuma did the rest, wrapping up his first full year as a Major League starter with a 14-6 record and 2.66 ERA, establishing himself as an American League All-Star while ranking among the league's top five in ERA, WHIP, opponent's batting average and strikeouts-to-walk ratio.
The former Japanese star went 4-0 with a 1.62 ERA over his final eight starts and did not allow a run in 23 straight innings over his last three games. Having also had a streak of 23 2/3 scoreless innings earlier, Iwakuma was the only Major Leaguer with two streaks of 20-plus scoreless innings this year. Only Jered Weaver of the Angels and Kyle Kendrick of the Phillies pulled that off in 2012.
"First and foremost, like I said in Spring Training, one of my ultimate goals was to stay healthy through the long course of the season and stay in the rotation, and I was able to accomplish that and go 200-plus innings," Iwakuma said through translator Antony Suzuki. "I'm very happy for that."
Iwakuma finished with a career-high 219 2/3 innings, making him just the fifth Japanese starting pitcher with 200-plus innings in a Major League season. After pitching the first half of last season in long relief, the 6-foot-4 right-hander has gone 22-10 with a 2.66 ERA in 49 starts since moving into the rotation July 2, 2012.
"It's just been a lot of fun to see him have a great season," manager Eric Wedge said. "And a lot of fun watching him continue to progress over here. He does the work, pays attention to the game, prepares himself well and handles everything in a grand fashion out there. I really appreciate that."
The Royals never managed more than one baserunner in an inning and were shut out for the second straight night, the first time they experienced that fate since May 22-23, 2009, in St. Louis.
"He's an All-Star-caliber pitcher," Royals manager Ned Yost said. "I think he's given up one run this month, and he held true-to-form again tonight. He handcuffed us. We couldn't do anything."
Iwakuma's night ended after 101 pitches with a standing ovation from the 15,347 in attendance.
"I'm very happy and very grateful at the same time," he said. "I've never experienced that, to be honest with you. So that was the first time I've gone through that, and it was quite impressive."
Zunino was impressive as well, ripping his fourth and fifth home runs of the year. The first was a shot off the walkway above the Royals' bullpen, estimated at 418 feet, off Ervin Santana. Then he launched a 407-foot drive to center off reliever Will Smith on the heels of Saunders' 12th homer of the year.
"He's got some thump in that bat," said Wedge, "and he's still learning how to hit. You saw a glimpse there of what this young man is capable of doing."
Rookie shortstop Brad Miller went 2-for-4 with a double and helped Iwakuma in the fifth when he went high to snare a Jarrod Dyson line drive and convert it into an inning-ending double play after Mike Moustakas had laced a one-out double.
"Brad has come a long way, and there's still more upside there," Wedge said.
The Mariners have won three of their last four to improve to 70-89 with three games remaining this weekend against the A's at Safeco Field.
Seattle recorded its first back-to-back shutouts since April 21-22, 2011, in Oakland, and their 14 shutouts this season ties for the second most in franchise history, one behind the club record set in 2003.
Greg Johns is a reporter for MLB.com. Follow him on Twitter @GregJohnsMLB as well as his Mariners Musings blog. This story was not subject to the approval of Major League Baseball or its clubs.