Chen open to staying in Kansas City in '14
Chen open to staying in Kansas City in '14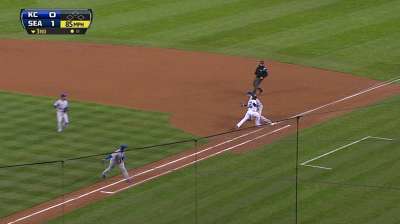 SEATTLE -- Left-hander Bruce Chen is heading for free agency in the offseason, but he is certainly open to returning to the Royals.
"I haven't talked to anyone yet, because now we're trying to win and go to the postseason," Chen said before Wednesday night's game against the Mariners. "I think contracts at this point would be a distraction to what we're trying to do, and we have a whole winter to figure it out."
Chen, 36, is in his fifth season with Kansas City, a team he joined after missing 2008 because of Tommy John surgery. From 2010-12, he led the Royals' staff in victories (with 12, 12 and 11) and this year he has split time between the bullpen and the rotation. He has an 8-4 record and a 3.31 ERA with one start remaining in the regular-season finale.
"I like it here, and I'd like to see if hopefully we can get something done here, but definitely we're going to keep Kansas City in our options," Chen said. "We have a very good team here -- a good defense, a good offense -- and hopefully we can work something out."
Chen also became a free agent after the 2010 season and signed a two-year, $9 million contract. The Royals are his 10th Major League team.
"I'm just going to go out there and wait and see what happens, and if I become a free agent, then we'll see what other teams say," Chen said. "But definitely I'm going to keep a close eye on what Kansas City's going to do.
"It's a waiting game, because the Royals have so many options, so many good pitchers, young guys, and also there are so many good free agents out there, and [Ervin] Santana is one of them. So it's just going to be interesting. But right now my whole focus is I've got one more start on Sunday. I want to finish strong, and we want to finish strong."
Dick Kaegel is a reporter for MLB.com. This story was not subject to the approval of Major League Baseball or its clubs.