White Sox can't solve Indians in road finale
White Sox can't solve Indians in road finale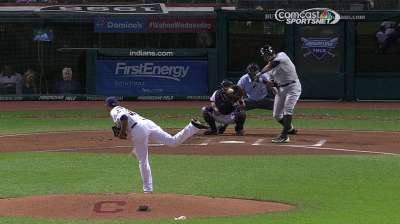 CLEVELAND -- When the White Sox last defeated the Cleveland Indians during this 2013 season, spring was only one month old, the NCAA basketball championship had been played just three weeks earlier and the South Siders were six days away from reuniting in Texas with their old friend A.J. Pierzynski.
That date was April 24, marked by a one-run home decision in Chicago's favor, an 8-12 record overall and some sort of hope for a productive year.
Little did the White Sox know that game No. 5 against the Indians would serve as their last head-to-head victory against them.
Terry Francona's crew completed their 14th straight victory against the White Sox with a 7-2 decision Wednesday night played in front of an electric crowd of 30,942 at Progressive Field. That total included walk-up sales of 5,181, who watched the White Sox (62-96) finish with an unfathomable 2-17 mark against the team currently holding the lead for the second American League Wild Card spot.
And has been pointed out numerous times during this franchise-record worst losing streak against a single team, the Indians (88-70) might owe the White Sox a collective share if they get to the postseason.
"Yeah, they are better than us this year," said White Sox manager Robin Ventura. "They had our number. They just outplayed us."
Tuesday's White Sox setback was gut-wrenching, with Jason Giambi's two-run walk-off homer against Addison Reed delivering the knockout punch. Wednesday's chances were a bit more remote with the White Sox missing key pieces.
There was no Paul Konerko, as the White Sox captain was sidelined after fouling a Joe Smith pitch off his right knee in the eighth inning Tuesday.
Second baseman Gordon Beckham was out of action with a nagging right quad injury that has bothered him for close to six weeks.
Conor Gillaspie originally wasn't going to be able to play first base after getting hit in the left forearm area Tuesday, but eventually switched positions with designated hitter Dayan Viciedo long before first pitch. And Adam Dunn had a day off after striking out four times the night before.
"So we're doing well," Ventura said in a deadpan tone.
This plethora of injuries plaguing the last-place team in the American League Central has been overshadowed by the South Siders' general poor play, which saw the White Sox extend the Majors' longest single-team losing streak since Pittsburgh lost 13 in a row to Milwaukee from July 22, 2010 to Aug. 22, 2011.
All of these negatives combine to bring about the worst season in recent memory for the White Sox. John Danks and pitching coach Don Cooper, two of the four members of the current White Sox roster and coaching staff who were part of the 90-loss 2007 team, confirmed prior to Wednesday's setback that this season was far tougher to handle.
Their final Cleveland defeat set a single-season White Sox record for most road losses, as the team finished with a 26-55 record away from home. Dylan Axelrod (4-11) suffered the loss, allowing five runs (three earned) over 5 2/3 innings.
Nick Swisher delivered the game-deciding shot with a long two-run blast to center in the fifth, producing his sixth homer this season against his former team. Michael Brantley added three hits, one run scored and one RBI, while five relievers helped close out the victory for Danny Salazar (2-3), including Justin Masterson in the ninth.
Salazar struck out eight over 5 1/3 innings, giving him 17 strikeouts against the White Sox this season in just nine innings. Every White Sox hitter but Alexei Ramirez struck out at least once for a total of 16 in the game, while Avisail Garcia homered among his two hits.
Instead of focusing on their shortcomings in this latest Indians sweep, the White Sox talked up their opponent making a strong run to the postseason. And they began with Salazar.
"He throws hard, and you've got to be focused with him, because he never gave up. He wants to throw hard and make good pitches," Garcia said. "Just try to focus and don't try to swing hard. Don't try to do too much and make good contact. He's got really good movement and he's got a slider/split. He's got a fastball at 99-100 [mph], so you've got to be ready for him."
"They're a really quality team. They do all the little things right," Axelrod said. "They take extra bases, read balls in the dirt, play good defense and have timely hitting. They're hot right now, and they've had our number it seems like all year. They might surprise some people if they get into the playoffs."
No surprises figure to await the White Sox in their final four-game weekend series at home against the Royals. Their magic number is 1, as in the amount of games they need to win to avoid 100 losses. With their ledger complete against the Indians, the White Sox at least have a fighting chance.
"We did what we needed to do," Francona said of his team's victories over the White Sox. "I thought Danny pitched really well tonight."
Scott Merkin is a reporter for MLB.com. Read his blog, Merk's Works, and follow him on Twitter @scottmerkin. This story was not subject to the approval of Major League Baseball or its clubs.