Young O's show upside, pop day after elimination
Young O's show upside, pop day after elimination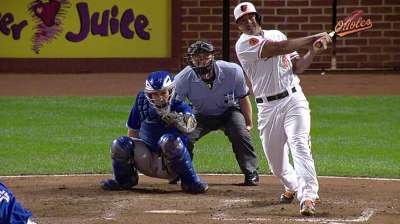 BALTIMORE -- After being officially eliminated from postseason play Tuesday night, the Orioles referenced their still-respectable season and a young-and-improving core as reasons to believe in the future.
That future was on full display Wednesday night, as Ryan Flaherty homered twice and top infield prospect Jonathan Schoop went 2-for-3 with a home run in his Major League debut, helping Baltimore (82-76) secure a 9-5 win against Toronto that ensured its second consecutive winning season.
"You can realize there's a lot of emotions there for him, probably some people in his family back in Curacao," said manager Buck Showalter, who watched the 21-year-old Schoop from his perch in the dugout. "He played well, turned a good double play, didn't look particularly nervous. I was for him. He had a good pace to his game.
"I think playing for his country in the WBC [for Kingdom of the Netherlands] was big for him. I know [Triple-A manager Ron Johnson] was talking about that, and [director of player development] Brian Graham. Said it was a little different guy that came back."
Schoop, who has anxiously watched from the dugout since he was added when rosters expanded earlier this month, saw one pitch before driving Esmil Rogers' offering into center field for a third-inning single in his first career at-bat. He scored on Flaherty's two-run homer immediately after, and the pair again combined for a 1-2 punch in the eighth.
"Anytime you wear the uniform you got on, it's pride," Flaherty said of the victory, which snaps a season-high six-game skid for the Orioles and marks the first time in 22 games they've scored more than five runs. "Whether it's Spring Training or the World Series, a game is a game and you got to go ready to play.
"Obviously, you wish the circumstances were a little different than they are. But none the less, it's still fun. A win's a win."
And Flaherty and Schoop were at the center of it, a night Schoop said he would never forget.
"The first at-bat there was [some butterflies]. I was a little bit shaky," said Schoop, whose teammates kidded that they gave away his first hit and homer balls. "After the first pitch, I was thinking, 'OK, let's go. Let's go to work.'"
Schoop worked a leadoff eighth-inning walk on Blue Jays reliever Ricky Romero and Flaherty -- a Rule 5 Draft pick last year -- clobbered a 1-1 fastball to mark his second career two-homer game. Schoop went deep on his own off reliever Kyle Drabek to open the sixth.
"I think that's more important right now, seeing Schoopy go out there and do what he did," shortstop J.J. Hardy said. "It's pretty special, fun to be a part of. We didn't make it to the playoffs. That was our goal. I don't know how much we look at it as, 'All right, we got a winning season. Hurrah, hooray.' But it was fun to watch Schoopy tonight."
The Orioles used a three-run fifth inning to chase Rogers from the game, with Nick Markakis driving in Flaherty -- hit by a pitch to bring on Aaron Loup -- for the go-ahead run. Chris Davis doubled in another run on a ball to deep center that skipped over the wall, marking his 95th extra-base hit, and Markakis scored on Jason Pridie's groundout to push the lead to two runs.
Down three, the Orioles got on the board courtesy of Flaherty's third-inning homer before Steve Pearce followed with a solo shot in the following frame, sending Rogers' first-pitch curveball into left field to tie the score.
"The first couple of innings he looked pretty good, and then they started hitting him around," Blue Jays manager John Gibbons said of Rogers. "He was in some jams for most of the game, and then they opened it up there in the middle. We kept getting guys on base, we just couldn't get them in enough."
Orioles starter Bud Norris, making his first start since Sept. 8 due to right elbow soreness, was tagged for three runs on seven hits and two walks and exited the 96-pitch outing after four innings.
"For me to get a start, to go through my routine again, that's what I really wanted to do," said Norris. "Warm up in the bullpen, take my time. The team got the win, that's the most important thing, and I always have things to build on."
Rule 5 Draft pick T.J. McFarland allowed a run after Norris left, with Josh Stinson tossing a scoreless sixth. Lefty Troy Patton recorded a pair of outs and righty Jason Hammel followed with 2 1/3 innings tarnished only by a run in the ninth.
Brittany Ghiroli is a reporter for MLB.com. Read her blog, Britt's Bird Watch, and follow her on Twitter @britt_ghiroli. This story was not subject to the approval of Major League Baseball or its clubs.