Rogers plans to compete for rotation spot in 2014
Rogers plans to compete for rotation spot in 2014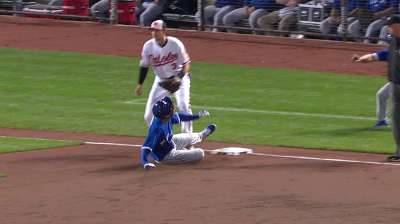 BALTIMORE -- Esmil Rogers entered this season with the firm belief that his starting days were over, but instead he ended up becoming a permanent fixture in the Blue Jays' rotation.
Toronto's right-hander was slated for a role in long relief after being a full year removed from his starting job with the Rockies. He wasn't even mentioned as a possible candidate for the rotation during Spring Training, but another series of devastating injuries to the staff changed all of that.
Rogers' season came to an end on a sour note as he surrendered six runs in a 9-5 loss the Orioles on Wednesday night, but not before he made 20 surprising starts and attempted to make a case that he could still have a future in that role.
"I'm so happy, there are not a lot of pitchers that can do that in baseball," Rogers said of transitioning from the bullpen to the rotation. "I got the opportunity and I was healthy all year. I'm going to keep working. I like the team, I like the organization, I like everybody, so I'm going to work out and try to be here for a long time."
Rogers' stint with the starters was met with mixed results. He had a couple of long stretches with nice outings, but finished with a 4-7 record and 4.89 ERA. It seems unlikely that Rogers will receive much consideration for a starting job next spring, but don't tell that to the fifth-year pitcher out of the Dominican Republic.
The 28-year-old intends to head to Winter Ball during the offseason like he does every year. He wants to work on his changeup, while also making some changes to his delivery after receiving some suggestions from Blue Jays pitching coach Pete Walker.
Rogers is going to stop going over his head during the windup, and instead plans to keep his glove low on the inside of his body. The hope is that it will lead to better command and a smoother delivery, and that it will give him an opportunity to crack the starting staff next year.
"We talked about that, and I'm going to try this winter and we'll see [how] this is going to be," said Rogers, who is out of options on his contract. "Let's try, because it has never happened before [for me]. I'm going to try it and get confidence, and try not to make too many mistakes."
Before Rogers could officially shut things down for the year, he had to first take on the Orioles. He faced the minimum through two innings, but the outing started going south in the third, when he allowed a two-run homer to No. 9 hitter Ryan Flaherty.
The problems also carried over into the fourth, when first baseman Steve Pearce went deep on a solo shot to left field. It was the fourth time this year Rogers surrendered multiple home runs in a game.
The final blow came in the fifth, when Rogers allowed three of the first four batters of the inning to reach base. He was removed from the game by manager John Gibbons, but two more runs came around to score on a double by Chris Davis and a groundout by Jason Pridie.
Rogers was charged with six of the runs on eight hits, while striking out just two. It marked the first time since Aug. 20 that Rogers surrendered more than three runs in a start, but also was the second straight outing he failed to pitch at least five innings.
"The first couple of innings he looked pretty good, and then they started hitting him around," Gibbons said. "He was in some jams for most of the game, and then they opened it up there in the middle."
Toronto's offense was led by a pair of unlikely candidates Wednesday night. The light-hitting Munenori Kawasaki and Josh Thole both went 4-for-5, with the backup catcher adding an RBI. Anthony Gose added an RBI triple to right-center field in the third inning, while Jose Reyes also had an RBI single and a run scored. Orioles right-hander Bud Norris was charged with three of the runs and managed to last just four innings.
Kawasaki certainly isn't known for his work with the bat, but his numbers against the Orioles are surprisingly effective. He is hitting .313 (15-for-48) with three doubles, a home run and eight RBIs against the club this year. Kawasaki joked after recording a career-high four hits that his new nickname is "Lil' Papi."
"I'm just happy about the result," Kawasaki said through an interpreter. "I just appreciate the chance that the team gave me and I'm just totally enjoying this season."
Kawasaki will have one more opportunity to face the Orioles when the two sides close out their series at Camden Yards on Thursday night. The Blue Jays will then return home to finish off their year with a three-game set against Tampa Bay.
Gregor Chisholm is a reporter for MLB.com. Read his blog, North of the Border, and follow him on Twitter @gregorMLB. This story was not subject to the approval of Major League Baseball or its clubs.