Scutaro relents, will have pin put in pinkie
Scutaro relents, will have pin put in pinkie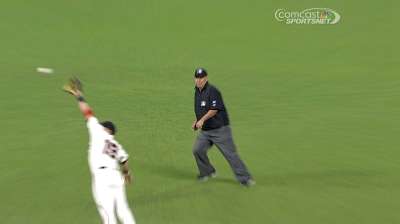 SAN FRANCISCO -- There's a saying that athletes are supposed to play hurt but aren't expected to play injured. Marco Scutaro apparently did both this season.
"I tried to do whatever I could to help the team win," Scutaro said Wednesday, one day after the Giants announced they were shelving their starting second baseman to allow him to have a pin placed in his left pinkie. Scutaro was diagnosed with mallet finger in the pinkie after he was hit by a pitch from Pittsburgh's Tony Watson on June 11, resulting in a finger that was noticeably bent. The pin, to be inserted Friday, will stay in Scutaro's finger for a month and a half in hopes that it will straighten the pinkie.
"That was what I supposed to do when I got hit," Scutaro said. "But I tried to wait a couple of days and keep playing."
By batting with the bent pinkie and favoring it, Scutaro bruised the joint on his left ring finger. He also endured back pain since Spring Training and hip discomfort. Despite these ailments, the Most Valuable Player of last year's National League Championship Series hit .297 with a .357 on-base percentage and made the All-Star team. But he drove in only 31 runs, compared with 74 last year.
Scutaro, who will turn 38 on Oct. 30, was philosophical about his mixed success this year.
"That's part of the game," he said. "You work hard all season to get your body in shape and you never know when you might get hurt."
Chris Haft is a reporter for MLB.com. This story was not subject to the approval of Major League Baseball or its clubs.