Royals GM Moore: I definitely want Yost back
Royals GM Moore: I definitely want Yost back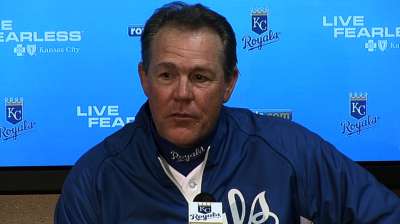 SEATTLE -- Ned Yost does not need to convince one very important person that he should return as the Royals' manager in 2014. General manager Dayton Moore is in his corner.
"Ned's done a terrific job, and I definitely want him back," Moore said Wednesday.
Moore was in the visitors' dugout at Safeco Field before Wednesday night's game against the Mariners when he was asked about Yost's status. Yost is without a contract for next season.
"Ned and I made an advance decision a month or so ago that anything that we would discuss would be after the season, and we've held to that," Moore said. "Like I said before, Ned's done a terrific job, and I definitely want him back. We're going to sit down and talk about it."
Actually, while Moore has praised Yost's performance before, this is the first time he has said publicly that he wants his manager back.
"He's done a terrific job, and it goes without saying that I want him back," Moore repeated.
The Royals went into Wednesday's action with a very thin but still mathematically possible chance to secure a Wild Card berth in the American League playoffs. Their 83-74 record matched the victory total of the 2003 team, which was the franchise's lone above-.500 team since 1994.
One possible complication might be that Yost would be seeking the security of a multi-year contract, and Moore's own contract runs only through 2014. It is rare for a general manager to sign a manager for a time period longer than his own.
"I don't know; it's total speculation," Moore said. "Ned and I haven't spoken in any detail. I guess he wants to come back, I mean I don't know."
Perhaps the team's success could mean an extension of Moore's deal. The general manager did not respond directly to that suggestion.
"I'm very proud of everything that we've accomplished," he said. "It's been a season of growth for us. But we're certainly not where we want to be. I'm just like everybody else. You always wish you could have done more, but we'll just see how it unfolds the next five games."
Moore indicated that he would like to resolve Yost's status quickly.
"You certainly want it to be settled as soon as you can," Moore said. "We'll discuss it at the appropriate time."
For his part, Yost avoided the subject of his future.
"It's not up to me to answer; you're asking the wrong guy," he said.
Yost was hired as the Royals' 16th full-time manager on May 13, 2010, moving from a front-office position to replace Trey Hillman. He signed a two-year contract with an option year on July 31, 2010, and the club exercised the option for 2013 prior to the 2012 season.
He has been a firm advocate of the Royals' process of building from within the organization to develop a roster composed largely of young homegrown players in an effort to become a contender. This was the first time in 10 years that the Royals had made a run at the postseason.
Under Yost, through Tuesday night, the Royals had a 281-327 record.
Dick Kaegel is a reporter for MLB.com. This story was not subject to the approval of Major League Baseball or its clubs.