Braves have variety of options for NLDS roster
Braves have variety of options for NLDS roster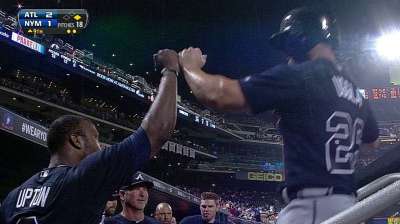 ATLANTA -- As the Braves progress during the final days of the regular season, they will be evaluating some of the tough decisions they will face while constructing their roster for the National League Division Series.
"I think it's still a work in progress," Braves manager Fredi Gonzalez said. "We met today with [general manager Frank Wren] and our coaching staff. I don't think we'll have a definite one until after the weekend."
Once his club concludes the regular season with Sunday's game against the Phillies, Gonzalez will have a better feel of how his 25-man roster will look entering the postseason. But if the Braves finish the season with the NL's best record, some of the final decisions could wait until their NLDS opponent is determined by the outcome of Tuesday's Wild Card Game.
The Braves will not have to submit their NLDS roster until Oct. 3, which is when Game 1 of the best-of-five series will begin. This could give them a little extra time to get a better feel for the status of Reed Johnson, a potentially valuable pinch-hitter who has been limited to three pinch-hit appearances since straining his left Achilles on July 28.
Gonzalez will attempt to get Johnson some pinch-hit appearances during the final five games and is thinking about having him start Friday night's game against Phillies left-hander Cliff Lee. While Johnson is certainly not 100 percent, he has improved enough to the point where he can at least attempt to run the bases and play the outfield.
If Johnson needs more work after Sunday, the Braves could send him to Florida to get some at-bats for a few days in the instructional league.
"When he's right, he's your best pinch-hitter," Gonzalez said of Johnson, whose 11 pinch-hits are just two off the league-leading total despite the fact he has not recorded one since July 28.
If Johnson is included on the NLDS roster, Joey Terdoslavich and Jose Constanza would likely be the odd men out. But there is also a chance none of these three players would be included if Gonzalez determines he would rather carry a 12th pitcher during this short series.
Anthony Varvaro and Jordan Walden could stand as the top candidates to fill the final spot on an 11-man pitching staff. Walden has struggled in two of the three appearances he has made since missing three weeks with a strained groin. But if he builds some confidence over the next few days, he would almost certainly be included.
But the Braves could go a couple different routes while constructing the pitching staff. Freddy Garcia has pitched effectively enough to be considered a legit candidate to start Game 4 of the NLDS. But if the club instead gives this start to Paul Maholm, there is always the chance Garcia could be carried as a reliever.
If Maholm is not targeted to make a start, it seems unlikely that he would be included on the NLDS roster. He has made just one relief appearance in his Major League career.
Mark Bowman is a reporter for MLB.com. This story was not subject to the approval of Major League Baseball or its clubs.