D-backs expect improvement in rotation next year
D-backs expect improvement in rotation next year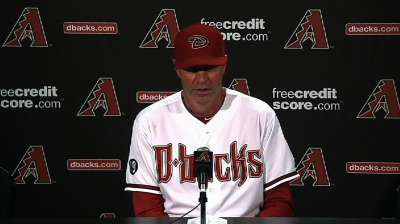 SAN DIEGO -- How the D-backs' starting rotation will look in 2014 remains to be seen, but one thing is for sure, things didn't go as planned for the starters in 2013.
"If you look at what we projected earlier in the year we expected [Trevor] Cahill and [Ian] Kennedy and [Brandon] McCarthy, really we looked at all those guys as being 200-inning guys and being really effective and that hasn't worked out," manager Kirk Gibson said.
No, it hasn't.
The staff has given the team its fair share of innings, but the problem has been consistency.
Cahill battled injuries and command problems, while Kennedy struggled and was dealt to the Padres at the Trade Deadline and McCarthy missed significant time with a shoulder issue.
On the flip side, Patrick Corbin was a pleasant surprise in vaulting from the No. 5 spot to that of ace and Wade Miley continued his progress and maturity. In addition, Randall Delgado rebounded from a tough spring to show that he could be a contributor going forward.
With Cahill, McCarthy, Corbin, Miley and Delgado all expected back next year there should be plenty of competition in Spring Training considering that prospects Archie Bradley, Tyler Skaggs and David Holmberg among others will be pushing for spots.
"I think there should be competition at all spots," Gibson said. "The more competition you create, it makes us all better."
Steve Gilbert is a reporter for MLB.com. Read his blog, Inside the D-backs, and follow him on Twitter @SteveGilbertMLB. This story was not subject to the approval of Major League Baseball or its clubs.