Venable makes return to lineup following injury
Venable makes return to lineup following injury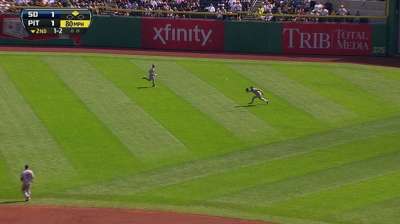 SAN DIEGO -- After missing two games with an abdominal injury, Padres outfielder Will Venable returned to the San Diego lineup Wednesday, batting leadoff and playing center field against the D-backs.
"Will is back, he feels good enough to play," Padres manager Bud Black said. "He wants to play and he's motivated to play. He's like most players, when they're on the bench and they're not able to help, that's a bad feeling."
Although the nagging pain that has bothered him for a few weeks subsided enough for him to play Wednesday, the injury isn't completely healed and won't be until he can rest it in the offseason.
"There is some discomfort there, but he can play through it," Black said. "Will wants to get back on the field the last five games, he wants to help us win games."
Making his 147th appearance this season on Wednesday, Venable needs to play in two more contests over the final four games of the schedule to break his career-high of 148 games set last year. The 30-year-old leads the Padres in almost every offensive category including hits (125) and home runs (22).
Tyler Emerick is an associate reporter for MLB.com. This story was not subject to the approval of Major League Baseball or its clubs.