Delgado unable to contain Padres' offense
Delgado unable to contain Padres' offense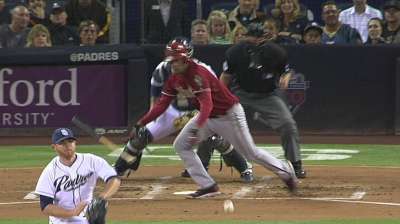 SAN DIEGO -- Home runs have been an issue for Randall Delgado this year.
Turns out not even the pitcher-friendly Petco Park could remedy that.
Delgado allowed a pair of homers as the Padres, behind former D-backs right-hander Ian Kennedy, prevailed, 12-2.
"I think I've had a lot of games where I've given up two home runs," Delgado said. "Every coach says that I have to learn about why that happened and that it shouldn't happen. I'm trying to learn every time for next year."
Delgado has now allowed 24 home runs in 116 1/3 innings pitched this season. Overall, the right-hander gave up six runs on seven hits over five innings.
Delgado allowed a run in the first on Chase Headley's RBI double, but seemed to settle in over the next two innings.
Meanwhile, Delgado helped his own cause at the plate with an RBI single in the third to tie the game and the D-backs took a 2-1 lead in the fourth when Kennedy balked home Paul Goldschmidt.
After retiring the first two hitters in the bottom of the fourth, Delgado allowed a home run to Tommy Medica to tie things up.
One inning later, the wheels came off for Delgado as the Padres once again did damage with two outs.
Chris Denorfia drove home a pair of runs with a single through the hole at second and Jedd Gyorko then blasted a hanging changeup over the wall in left for a two-run homer and a 6-2 San Diego lead.
Delgado finished the season with a 4.26 ERA in 20 games (19 starts) in the big leagues.
"Obviously, it wasn't how I wanted it, but I'm trying to stay focused on learning about mistakes," Delgado said. "That's how it works. If you're not doing like you want, you have to learn. But I feel happy about what I did even if I started so bad. But I think some things will help me a lot about the experience this year."
The homers were enough support for Kennedy, who was dealt to the Padres by the D-backs just prior to the July 31 non-waiver Trade Deadline.
Kennedy allowed two runs on six hits in seven innings.
"First inning set the tone with my command, I had my fastball down," Kennedy said. "When you throw it where you want it, it gives you a bit of liberty of missing up because they're looking down. It changes their eye-level. Too bad it's my last start of the year. It finally clicked tonight. I'll take that into my offseason."
It was quite a contrast to the first time he faced his former team. In that Aug. 27 game at Chase Field, Kennedy allowed six runs and lasted just 4 1/3 innings.
"The last time we faced him he was using too much secondary stuff and he was falling behind in the count," D-backs catcher Miguel Montero said. "Today he was aggressive with his fastball, his command was pretty good so when his command is good and he's aggressive with the fastball his secondary pitches are better. Today was one of those days where he was like the old Kennedy."
Getting that first start out of the way against his former team definitely proved to be a positive.
"It was a lot different tonight, it didn't feel as weird as the first time around," Kennedy said. "It felt like a normal game."
Kennedy was the D-backs Opening Day starter from 2011-13 and he won 21 games for Arizona in 2011. He was unable to repeat that success in 2012 and after struggling in the first half this year, the D-backs decided to deal him to San Diego for lefty Joe Thatcher and Minor League reliever Matt Stites.
"His fastball command wasn't really there and he was throwing a lot of pitches in the middle, he was leaving the ball up and he was trying to guide it rather than throwing it," Montero said of why Kennedy struggled in the first half. "Today he was aggressive, he was throwing it. He actually threw 94 mph that means he's throwing the ball and when he throws the ball his command is even better and he gets away with a lot of good pitches sometimes."
The D-backs will try and gain a split in the series when it concludes with a late afternoon contest Thursday.
Steve Gilbert is a reporter for MLB.com. Read his blog, Inside the D-backs, and follow him on Twitter @SteveGilbertMLB. This story was not subject to the approval of Major League Baseball or its clubs.