Padres crush three homers to sink D-backs
Padres crush three homers to sink D-backs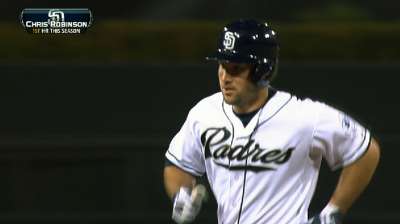 SAN DIEGO -- There were plenty of standout moments in the Padres' comfortable 12-2 victory Wednesday over the D-backs at Petco Park.
Ian Kennedy tossed seven strong frames to beat the team that traded him away in July. Six Padres drove in runs while four recorded multi-hit nights. The club as a whole drove in eight two-out runs with six two-out hits.
Any one of those noteworthy achievements could've very well captured the talk of the postgame clubhouse soaking in a well-rounded team win.
Instead, all any Padre could talk about was how in awe they were with what Chris Robinson did in the eighth inning with the game already well out of reach.
A 29-year-old rookie who spent parts of nine seasons in the Minor Leagues before finally making his big league debut on Sept. 4, Robinson in an instant captured the hearts of all his teammates when he crushed a Eury De La Rosa offering into the left-field bleachers for his first Major League hit, a pinch-hit three-run homer.
"Definitely the highlight of the year right there," Padres second baseman Jedd Gyorko said. "That was awesome."
Said Kennedy, "I was in the weight room and as soon as he hit it I ran out into the dugout yelling. It was so exciting, you work so hard to get to the Major Leagues. That's something special."
Kennedy, of course, wasn't the only one waiting to maul Robinson. Upon returning to the dugout, the journeyman catcher was met with the type of celebration fit for a walk-off homer, to which Robinson could only reply with a smile from ear-to-ear.
"People say it all the time, but it was definitely worth it," said the London, Ontario native. "Worth the trials and tribulations, the ups and downs. I guess it's funny how the game works. It's hard to put into words, but it's a pretty special night and I know I'm enjoying it and a lot of people back home are enjoying it too if they're awake."
Prior to the blast, Robinson was hitless in his first five Major League at-bats, including a plate appearance Tuesday when he tried to reach on a bunt single. That failed attempt ended up helping him Wednesday, however.
"I had a calming influence from bench coach Ricky Renteria as I was about to step into the box," he said. "He knew I had a history of bunting, so I went to dig in and I kind of caught his eye and he jokingly said to swing away. Obviously, up big I was going to, but it kind of made me step out and laugh. It had a calming influence and then I then saw a pitch up and got some good wood on it."
He certainly did. Cutting through the thick nighttime marine layer of air, the ball landed in the first row of seats. Robinson eventually got the milestone ball back and while he said he loves his parents dearly, he admitted he will be keeping the memento for himself.
Robinson's big night out-shined what must've been a rewarding day at the office for Kennedy, who struck out seven and surrendered just two runs to beat the D-backs, the team he played with for four seasons before being shipped to San Diego at the deadline.
Kennedy had faced his former team once before Wednesday, but gave up six runs in just 4 1/3 innings. Wednesday was a different story in the 28-year-old's final start of the year and that was mainly due to his dominant fastball that touched 94-mph.
"Ian came out firing," Padres manager Bud Black said. "He came out with probably the best velocity we've seen all year and he stayed on top of it. The arm was quick, he was painting early and really pitching well. Overall, I thought he threw the ball well and that's a great sign. It's great to finish that way. That was good stuff."
Right out of the gates Wednesday, Kennedy began aggressively attacking his old teammates with his fastball, retiring the first six batters he faced, including four on strikes using the heater.
"First inning set the tone with my command, I had my fastball down," Kennedy said. "When you throw it where you want it, it gives you a bit of liberty of missing up because they're looking down. It changes their eye-level."
After surrendering single runs in the third and fourth, Kennedy settled back down, working the final three frames of his night allowing just two hits and no runs.
"Too bad it's my last start of the year," Kennedy said, smiling. "It finally clicked tonight. I'll take that into my offseason."
Although the right-hander didn't need much support, his offense certainly provided plenty of it.
After the D-backs took the lead, Tommy Medica answered with his third homer of the year, a solo blast to the deepest part of the park to even the score at 2. That set up the eventual game-deciding rally in the fifth, in which the Padres collected three consecutive two-out hits to turn the tight game into a comfortable win. Following a Chris Denorfia two-run single, the next batter, Jedd Gyorko, compounded the damage by launching a two-run homer into the second deck of the left-field stands, suddenly giving the Padres a four-run cushion.
Gyorko's homer, his 21st of the year, moved him one past the Braves' Evan Gattis for tops among Major League rookies.
"It's been a while since we've had a game like that as a team," Gyorko said. "It's good to have good at-bats up and down, top to bottom."
Tyler Emerick is an associate reporter for MLB.com. This story was not subject to the approval of Major League Baseball or its clubs.