Peralta reflects on strong finish to first season
Peralta reflects on strong finish to first season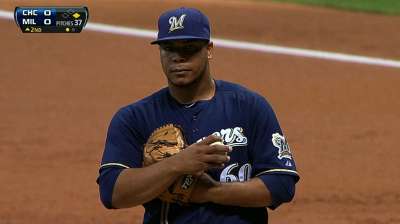 ATLANTA -- Brewers right-hander Wily Peralta expressed no qualms about the team's decision to bump him from his final start because of a blister.
"It feels great. I'm happy with the way that I finished up," Peralta said on a rainy Wednesday afternoon at Turner Field. "I think it's not the way you start the season, it's the way you finished, and I made big progress since the season started."
Peralta went 11-15 with a 4.37 ERA in his first full season in the Major Leagues, but finished much better than he started.
He pitched to a 6.35 ERA in April and May, with a .311 opponents' average in those first 11 starts. But he found a rhythm, beginning with a seven-inning outing against the Braves at Miller Park on June 21, going 7-7 with a 3.05 ERA and a .229 opponents' average over his final 17 starts of the season, including a pair of complete games.
Peralta's three-hit shutout of the Reds on July 9 was the Brewers' first complete game in two and a half years.
The key to the turnaround, said everyone from manager Ron Roenicke to Peralta's personal catcher, Martin Maldonado, was teaching Peralta to control his emotions.
"I've always been an emotional guy. Early, I was struggling, and I'm [still] an emotional guy, but I was able to control that," Peralta said. "Since I got my pitches, all my stuff working, I got more confident in myself. I still get mad on the mound, but I settled down and just forgot about it and made pitches when I had to."
Maldonado helped at times by firing purposeful return throws to the mound.
"Yeah, he threw bullets at me," Peralta said. "I know when he threw those pitches hard, he was mad at me because he wanted me to focus on the thing that I needed to do. That's been one of the things that's been helping me a lot, too, because it's the same thing he did in the Minor Leagues. I knew when he threw the ball hard he wanted me waking up."
Peralta also started slow at Triple-A Nashville in 2012 and is intent on a more positive start to next season. But he is not planning any dramatic changes to his preparation, and Roenicke believes no big changes are necessary.
"I'm hoping the mental side of Wily's development is to the point where he can figure things out a little bit quicker and not get off to that slow start," Roenicke said. "I don't think it's 'stuff.' He had good stuff in Spring Training. He had good stuff early in the season. But what took it so long to get to the point where we felt like when he goes out there now that we're going to win the ballgame? Before, it was kind of like, 'Well, what's Wily going to give us today?'
"So, hopefully, the mental side of that will figure some of that out. Mentally, somehow, we need to work with him and make sure that he's ready for Opening Day. Maybe it's more conversations in Spring Training to make sure that he's getting to that point where we need to start off well and hopefully continue what he's doing right now."
Peralta, who will still be shy of his 25th birthday when the Brewers open the 2014 season, plans to relax at the beach at home in the Dominican Republic in October, before ramping up workouts beginning in November. Peralta is one of three pitchers, along with Kyle Lohse and Yovani Gallardo, assured of a spot in next year's starting rotation, barring offseason transactions.
"Like I said, I'm happy with the way that I finished," Peralta said, "And I think these last two months are making me more confident for next year."
Adam McCalvy is a reporter for MLB.com. Read his blog, Brew Beat, and follow him on Twitter at @AdamMcCalvy. This story was not subject to the approval of Major League Baseball or its clubs.