De La Rosa feeling better after latest outing
De La Rosa feeling better after latest outing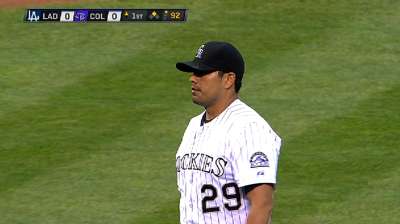 DENVER -- Rockies left-hander Jorge De La Rosa finally has good news to report after playing catch before Tuesday night's 8-3 win over the Red Sox.
De La Rosa has been pitching through a bruised left thumb since June 17 and it acted up when he tried to play catch last Saturday. But he said Tuesday's outing went "much better" and tried long tossing before Wednesday night's home finale against the Red Sox.
With just three games left, it's unlikely there's time for him to work in one more start. But De La Rosa said there's still a chance he pitches on Sunday, when Tyler Chatwood is scheduled to start against the Dodgers.
But manager Walt Weiss isn't too worried about whether De La Rosa, whose 16 wins lead Colorado's staff and also match his career-high, sees game action before the season ends.
"For me, it's not important that he just gets back on the mound," Weiss said. "I think it's important that he goes into the offseason healthy. He's had a great year."
De La Rosa last pitched on Sept. 2, but lasted just two innings against the Giants as his index and middle fingers also flared up.
De La Rosa and Chatwood -- two centerpieces of the rotation alongside Jhoulys Chacin -- have both missed significant time this year. Though that's brought expected frustration, it's also left De La Rosa confident that the rotation will be sharper in 2014.
"Next year is going to be way better than this year," De La Rosa said. "We had some problems this year, but some people getting hurt. But next year, we're going to try to stay healthy and get better. We got a lot of talent here to be in a good place, and we're going to do that next year."
Weiss is well aware that pitching is what usually carries clubs to the postseason, and he has been pleased with the progress he's seen this year. The Rockies' 5.22 team ERA last season was the worst in the Majors, and though their 4.37 mark in 2013 ranks near the bottom, Weiss' optimism for the future mirrors that of De La Rosa.
"You turn on the TV in October, you're going to see a lot of good arms," Weiss said. "I think ultimately, you have to perform well on the mound. I think we've taken some strides, especially with the three starters [De La Rosa, Chacin, Chatwood]. We've come a long way in that department."
Ian McCue is an associate reporter for MLB.com. This story was not subject to the approval of Major League Baseball or its clubs.