Rosario still likely to return against Dodgers
Rosario still likely to return against Dodgers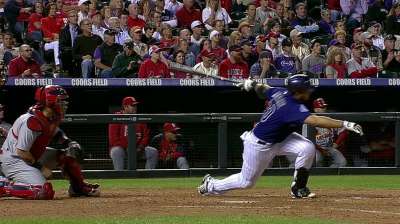 DENVER -- Manager Walt Weiss remains confident that catcher Wilin Rosario will play in the Rockies' final series at Dodger Stadium, despite Rosario battling cramps during a bullpen session before Wednesday night's game against Boston.
Rosario has not played since Sept. 17 due to a strained right calf that makes quick movement and running difficult. Wednesday's bullpen was the first true test of how his calf is healing.
"He started to cramp up a little bit and had to step away from that bullpen session," Weiss said. "I don't know if I'd call it a setback, but I think once he felt a little cramping, we got cautious.
"It's not a sure thing, but I still have a feeling he's going to play sometime in L.A."
Rosario is hitting .292 with 29 homers, 22 doubles and 79 RBIs in his sophomore campaign, among the best totals for National League catchers and similar to numbers he posted in a breakout rookie campaign. He's also made strides defensively, as he was scrutinized for the 21 passed balls and 13 errors he finished with in 2012.
The Rockies play their final three games against the Dodgers starting on Friday.
Ian McCue is an associate reporter for MLB.com. This story was not subject to the approval of Major League Baseball or its clubs.