Correia limits damage, but Twins shut out
Correia limits damage, but Twins shut out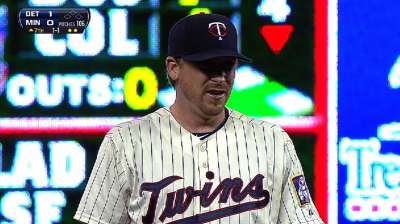 MINNEAPOLIS -- It wasn't that long ago the Twins routinely celebrated winning the American League Central.
They won the division title six times in nine years, including the inaugural season at Target Field in 2010. But that feels like forever ago, as the Twins are mired in their third straight season with more than 90 losses.
Those days felt even more distant on Wednesday night, as the Twins were forced to watch the Tigers celebrate their third straight division crown with a 1-0 win at Target Field.
"It's not what we're here for to watch other people celebrate," manager Ron Gardenhire said. "That's a very good team with a very good pitching staff over there. They have some really good players over there and leaders. So whether you want to watch or not, they got it done and did something special. We've been on other side plenty of times, some of us, and it's a lot of fun, but unfortunately, we're not having fun right now and are other people are."
Kevin Correia shined in his final start of the season, but he was outdueled by Max Scherzer, who added to his Major League-leading win total, as he ends the season with 21 victories.
Correia concluded his first season with the Twins on a high note, giving up just one run on seven hits over seven strong innings, but he was stuck with the hard-luck loss. The right-hander ends the year with a 4.18 ERA, which was his lowest since 2009, in 31 starts, including a 3.48 ERA in five September outings.
"Kevin had a heck of a year for us," Gardenhire said. "He gave us a chance really all year. He went toe-to-toe with those guys today, so I tip my hat the guy. He's pitched well and was a great pickup. But unfortunately, Scherzer was good, and I don't think any of our three hits left the infield tonight."
The Tigers struck early with a run in the first inning keyed by a leadoff triple from Austin Jackson, who scored on an RBI single from Torii Hunter. Correia settled down from there and showed impressive command, as he didn't walk a batter.
"The guy I was going with was probably the frontrunner for the Cy Young, so it's tough," said Correia, who fell to 9-13. "He obviously has incredible stuff and has had a great year. You don't want to get too far behind. I thought I did good job after that first hit to limit it, but we couldn't get anything going off him."
Scherzer walked a season-high six batters, but he limited the Twins to just two hits over seven scoreless frames. He also struck out 10 batters to mark the eighth time this season he's reached double digits in punchouts.
"To have 21 wins means my team played so well this year, I pitched well, the defense played well," Scherzer said. "It's just a culmination of our team playing together. They did that every single time I pitched, and I'm glad I was always able to pitch consistently and give them a chance to win, because those guys always picked me up."
The Twins failed to capitalize again with runners in scoring position, as they went 0-for-5 in those situations against Scherzer.
Minnesota had runners at first and second with one out and Brian Dozier at the plate in the fifth, but the Twins ran their way out of the inning, as Dozier struck out and Pedro Florimon was thrown out trying to steal third on the pitch.
Scherzer came out for the seventh despite already having thrown 108 pitches, and he walked Chris Herrmann on five pitches to open the inning. Tigers manager Jim Leyland stuck with Scherzer, and he was able to get out of the jam unscathed.
Darin Mastroianni bunted over Herrmann to second base, but he was stranded there, as Florimon and Alex Presley both flied out to left field. It was the end of the night for Scherzer, who threw a season-high 123 pitches.
"Tonight he showed why he's the Cy Young winner," Leyland said. "I don't vote, but if that don't get him over the hump, I don't know what does."
Relievers Jose Veras, Drew Smyly and Joaquin Benoit combined to hold Minnesota scoreless over the final two innings to mark the 15th time the Twins have been shut out this year.
After Benoit struck out pinch-hitter Josh Willingham to end the game, the Tigers celebrated their division title in a joyous huddle near the mound, which was tough for the home to watch.
"They earned it," Correia said. "They did a great job. It's not like we had a chance and lost it, so it's not painful. It kind of just drives you to want to experience that. It's something the Twins organization has experienced a lot, so hopefully next year we can improve on what we did this year and move in the right direction."
Rhett Bollinger is a reporter for MLB.com. Read his blog, Bollinger Beat, and follow him on Twitter @RhettBollinger. This story was not subject to the approval of Major League Baseball or its clubs.