Keuchel's fourth-inning lapse seals Astros' fate
Keuchel's fourth-inning lapse seals Astros' fate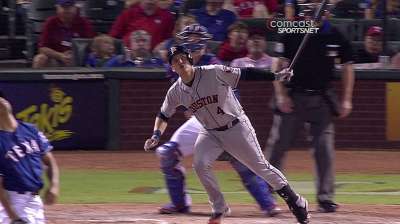 ARLINGTON -- For a team that hadn't had much on the line throughout most of the season, the Astros hit mid-September pumped up about the chance to play spoiler to the steady diet of playoff teams they were going to face down the stretch.
The young Astros certainly weren't short on determination, but they just didn't have the talent to compete with teams with postseason dreams.
The Rangers became the third consecutive contender to sweep the Astros, scoring five runs in the fourth inning Wednesday night at Rangers Ballpark to cruise to a 7-3 win in the final meeting between the teams this year.
The loss was the club-record-tying 12th in a row for the Astros and their 108th of the season, which broke the club record set last year.
"It's not fun at all," Astros outfielder Brandon Barnes said. "There's nothing more to be said than it's not fun. We all at the same time want to go out there and we want to win, and it's not happening. We're going to have to fix things this offseason. Everybody's going to have to work as hard as they can and come back stronger next year."
First-year manager Bo Porter, who took over a club that was in the process of rebuilding while moving to the rugged American League, offered no excuses.
"It's one of those things where man to a man, we all have to take accountability for what has happened," he said. "Nobody's going to feel sorry for us, and it's up to us as an organization to fix it."
In getting swept in succession by the Reds (three games), Indians (four games) and Rangers (three games), the Astros went 0-10 against teams in contention down the stretch.
"Definitely coming into this situation, I felt like we would fare much better than we did, but at the same time there's a reason why all these teams are either going to be in the playoffs or are fighting for their playoff lives," Porter said.
The Astros, who finished 27-54 on the road and will host the Yankees this weekend at Minute Maid Park in their final three games of the season, were dominated by the Rangers. Texas went 17-2 against the Astros, winning the final 11 games.
For the Rangers, it was the most wins against any single team in club history.
"They have some pretty good arms over there," said Rangers second baseman Ian Kinsler, who homered in the sixth inning. "Obviously, they are a young club, but they have some pitchers that are capable of throwing some quality games."
One of those young arms, left-hander Dallas Keuchel, finished his season on a sour note by giving up seven runs (six earned) and six hits in 5 2/3 innings. The majority of the damage against Keuchel came after two were out in the fourth, as the Rangers scored five runs, including a three-run double by Leonys Martin.
Keuchel set up Martin to be the hero when he hit Craig Gentry with an 0-2 pitch to load the bases.
"That was the most difficult to swallow," Keuchel said. "I had Gentry there, 0-2, and I think if I make a good pitch on an inside fastball, I get him. Obviously, I pulled it, and they get five runs. I've got to do a better job of making pitches and getting out of the inning, especially when we put up a three-spot there in the top of the fourth."
Keuchel went 6-10 with a 5.15 ERA in 31 appearances this year, including 6-8 with a 4.90 ERA in 22 starts, and figures to be a key part of the rotation in 2014.
"I felt good today," he said. "It's just one of those days where one pitch leads to a downfall, and I take blame for that. I've got to do a better job of getting out of that inning. I've done myself well this year. I've improved on a lot of stuff category-wise. We'll see. I'm going to go into the offseason thinking I'll be back here, and we'll see how it turns out."
The Rangers' outburst came just after the Astros took a 3-1 lead in the fourth on an RBI single by Chris Carter and a two-run homer by Brandon Laird. The Astros were 1-for-8 with runners in scoring position.
"We didn't swing the bats well enough to win the ballgame, but we did swing the bats well," Porter said.
Rangers starter Martin Perez (10-5) worked seven innings and allowed three earned runs and six hits while striking out eight batters. When he fanned Barnes in the seventh inning, it was the 1,500th strikeout of the season by Astros hitters -- the second most in Major League history.
That was just another in the latest of some dubious records set by the Astros.
"I believe in the guys in the clubhouse," Barnes said. "There's going to be some guys that are coming up that are all capable of doing the job. It's all about figuring out how to do it on a daily basis. And we can't do this year in and year out. It's not fun for anybody, and we just got to stay the course and keep grinding."
Brian McTaggart is reporter for MLB.com and writes an MLBlog, Tag's Lines. Follow @brianmctaggart on Twitter. This story was not subject to the approval of Major League Baseball or its clubs.