Rangers shadow Wild Card leaders with win
Rangers shadow Wild Card leaders with win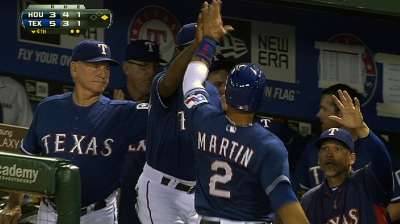 ARLINGTON -- The Rangers completed their sweep of the Astros on Wednesday but are still waiting for somebody else to help them.
There are only four days left for it to happen. The Rangers, after three years of being one of the frontrunners of the American League, are finding out what it's like to have to rely on other teams, especially ones with losing records just trying to finish out the season.
But that's where it still is after the Rangers, down by two, scored five runs in the fourth inning and went on to defeat the Astros, 7-3, on Wednesday night. The American League Wild Card standings did not change because the Rays and Indians also won.
With four left to play, the Rangers trail the Rays by two games and the Indians by one in the Wild Card race. The Rangers open a four-game series with the Angels at home on Thursday.
"We have to win," second baseman Ian Kinsler said. "Nothing's changed, there is no secret. We have to win games and hope to have somebody else help us. But there is nothing we can do but win our games."
The Indians close out the regular season with a four-game set against the Twins in Minnesota. The Rays have one more game left with the Yankees before finishing the season with three games against the Blue Jays in Toronto.
"You just take care of the business in front of you," Rangers manager Ron Washington said. "If we keep winning ballgames, I don't care what they do. If we win out the string and they win out the string, that's the way it is. We're not thinking about Tampa Bay or Cleveland. We're trying to win a Major League ballgame."
The Rangers have had no trouble doing that when playing the Astros. Wednesday's victory was the Rangers' 17th in 19 games against the Astros, including the last 11 in a row. It's their most wins ever against one team in club history and marked the fifth time since the 1969 expansion that one team has defeated another 17 times during the season. Cleveland also improved to 17-2 against the White Sox on Wednesday.
"It's not fun at all," Astros outfield Brandon Barnes. "There's nothing more to be said than it's not fun. We all at the same time want to go out there and we want to win, and it's not happening."
Rangers starter Martin Perez went seven innings to get the victory, allowing three runs on six hits with a walk and eight strikeouts. Perez is 10-5 with a 3.55 ERA and is line to start on Monday if the Rangers end up in a tiebreaking game with either the Rays or the Indians.
Perez, overcoming a three-run fourth inning, also saved the Rangers from using top relievers Neal Cotts, Tanner Scheppers and Joe Nathan. Cotts and Nathan warmed up, but Jason Frasor pitched the eighth and Joakim Soria worked the ninth to close it down for Perez.
"I thought Perez did a really good job," Washington said. "You could see his emotions start to get to him a little bit but after he got past that fourth inning, he began to settle in."
The Rangers scratched out an unearned run in the third inning to take a 1-0 lead, but the Astros struck back in the top of the fourth. Jose Altuve led off with a double and scored on a one-out single by Chris Carter. Brandon Laird then put the Astros ahead with a two-run home run that just cleared the outfield wall beyond the reach of center fielder Leonys Martin.
"A couple of pitches ... I just tried too hard to make the perfect pitch," Perez said. "But after that, I just tried to minimize the damage and continue to pitch. After they scored three runs, I thought, 'I have to stop this thing. If we get some runs, we'll win the game.'"
That's exactly what happened, and everything happened in the fourth after Astros starter Dallas Kuechel retired the first two hitters. Jeff Baker got a rally started with a single to center, Mitch Moreland drew a walk and Craig Gentry was hit by a pitch to load the bases.
That brought up Martin, who was looking for the same slider that he struck out on in the third. He got it and smashed it down the right-field line for a three-run double.
"I was definitely looking for that pitch," Martin said. "The last at-bat, he struck me out with that same pitch, so I was waiting for that pitch. Thank God he threw me that same pitch and I was able to square it up."
Kinsler's single drove home Martin, and Elvis Andrus and Alex Rios followed with singles to make it 6-3. Kinsler added a sixth-inning home run, his first at home since July 3.
"We were able to build an inning and Leonys got the big hit," Kinsler said. "It was a big inning in getting [Perez] settled down."
Now the Rangers wait for another day and see if they can regain control of their destiny.
"We just have to keep winning," Andrus said. "There is nothing else we can do. Keep winning and hope somebody loses. But the only way we have a chance is we have to keep getting W's."
T.R. Sullivan is a reporter for MLB.com. Read his blog, Postcards from Elysian Fields, and follow him on Twitter @Sullivan_Ranger. This story was not subject to the approval of Major League Baseball or its clubs.