Braves fall half-game behind Cards for NL best record
Braves fall half-game behind Cards for NL best record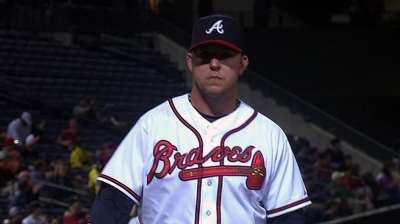 ATLANTA -- This was not the kind of excitement the Braves wanted to experience as they attempt to secure home-field advantage for the National League playoffs.
Instead of confronting yet another player following a home run, they would have rather seen the fireworks supplied by their maddening offense.
A benches-clearing confrontation that developed after Carlos Gomez crushed a first-inning home run off Paul Maholm will stand as most memorable moment created during Wednesday night's 4-0 loss to the Brewers. But instead of focusing on this ugly scene, the Braves need to address a much greater concern that Kyle Lohse managed to enhance with the playoffs just a week away.
Lohse proved masterful as he needed just 89 pitches to complete a two-hit gem against the Braves, who have now been shut out in four of their past 10 games. This also marked the sixth time this season and second time this month that Atlanta recorded two or fewer hits.
"We didn't get good swings at him," manager Fredi Gonzalez said of Lohse, who did not throw more than five pitches to any of the 29 batters he faced. "We didn't make him work."
With this latest disheartening defeat, the Braves fell a half-game behind the Cardinals in the race to secure the best record in the National League and gain home-field advantage leading up to the World Series. Atlanta owns the tiebreaker against St. Louis.
The Braves still have four games to secure home-field advantage. But when they reach the postseason, they are going to need to see an offensive resurgence. They have batted .203 and averaged 3.0 runs while winning just eight of their past 20 games.
"We have to try to focus on getting some guys on base and then when we do, move them around a little bit as a good offense, instead of going up there hacking," Braves third baseman Chris Johnson said. "I've been guilty of it a little bit too, lately. We've just got to settle in. We've got to settle in these next four games and kind of get this thing going."
Making his first start in Atlanta since bottles and debris littered the field after a controversial infield fly ruling was made in last year's Wild Card playoff game, Lohse witnessed yet another odd scene when the benches cleared after Gomez admired his first-inning solo shot and then yelled at Maholm during a slow, animated home run trot.
While apologizing for his reaction after the game, Gomez said he was responding to being hit twice previously by Maholm. The most recent was an 88-mph fastball that struck his left knee while the Braves were leading 4-0 in the first inning on June 23.
"I guess every guy that hits him, he's going to decide to act like that," Maholm said. "I've hit plenty of guys, I've given up plenty of homers. He's not the first, he's not the last, but I'm probably going to say he's the last guy who's going to act like that when he hits a homer."
It appeared Gomez pointed toward his knee as he neared third base while yelling at Maholm, and when Milwaukee's All-Star center fielder approached the plate, he found his path stopped by Braves catcher Brian McCann, who angrily confronted Gomez up the third-base line, preventing completion of the now-viral home run trot.
As they jawed, the benches and bullpens emptied. The only significant contact came when Reed Johnson glanced Gomez's head with either his forearm or fist.
"If I'm the catcher, I do the same thing," Gomez said. "I respect McCann, all he's played, and I'm apologizing to his manager, the organization. I know it didn't have to be that far, but, you know, the adrenaline, the emotions take you more than you expect."
When Freddie Freeman was ejected for what crew chief Dana DeMuth said was in response to elbowing Aramis Ramirez in the scrum, the slumbering Braves offense was further weakened. Jason Heyward had already been given the night off after starting four of the previous five games since returning from a fractured jaw.
Taking advantage of the situation, Lohse retired 20 straight batters after Andrelton Simmons began the bottom of the first inning with a bunt single. Evan Gattis' two-out double in the seventh inning accounted for Atlanta's only other hit.
Lohse's effort led to an all-too-familiar result for the Braves, who were shut out in four of the six games played against the Brewers this season.
"Definitely got the adrenaline going earlier than expected," Lohse said. "It felt good to go out there and establish that I was going to throw strikes, and they were swinging. The result of that is, with good defense behind me, I'm going to have a decent game. That was a little better than decent. So I felt good coming out of that."
While allowing three earned runs and eight hits in seven innings, Maholm provided further indication that he has overcome the left elbow soreness that sidelined him for 12 days earlier this month. He and Freddy Garcia stand as the top candidates to start Game 4 of the NL Division Series.
A pair of fourth-inning singles set the stage for Sean Halton to deliver a sacrifice fly that gave Milwaukee a 2-0 lead. Maholm then retired nine straight before Scooter Gennett, Lohse and Norichika Aoki recorded consecutive two-out singles that led to another run in the seventh inning.
"I felt good," Maholm said. "Obviously that pitch wasn't good to [Gomez], and they got a couple dink hits to get the other runs in. But I felt good. Obviously made it through seven, and no issues with my arm at all. Hopefully I pitched well enough. We're going to have to see how it plays out."
Mark Bowman is a reporter for MLB.com. This story was not subject to the approval of Major League Baseball or its clubs.