Hechavarria's defense earns high praise
Hechavarria's defense earns high praise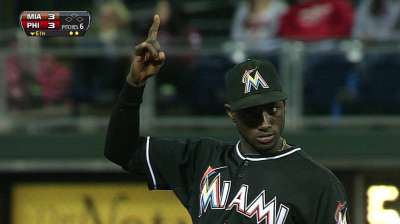 MIAMI -- Making spectacular plays look routine, and routine plays look spectacular, has been common practice for Marlins shortstop Adeiny Hechavarria.
The 24-year-old is winding down his first full year in the big leagues in style. Seemingly on a nightly basis, Hechavarria has dazzled with his glove.
Perhaps his defining night came Sept. 18 at Philadelphia, when he made a leaping grab on Cody Asche's liner. Later, he preserved the lead with a diving stop and quick throw to first to rob Roger Bernadina of what would have been an RBI single.
There have been several other terrific plays before and since.
"His defense has been off the charts," Marlins manager Mike Redmond said.
As much praise as Hechavarria has garnered, Redmond still feels the Cuban-born shortstop doesn't get his due.
"He doesn't get a whole lot of publicity down here with how good he has been defensively," Redmond said. "He definitely deserves it. I know I'm biased, but I don't know if there is a better shortstop in the league than him. He's that good. He's meant so much to our team, our defense and our pitching staff."
Hechavarria has a .977 field percentage after Wednesday's 3-2 win over the Phillies, and his 14 errors are the same as Atlanta's Andrelton Simmons, a favorite to win the NL Gold Glove at short. Simmons has a .981 fielding percentage, having played in seven more games.
Hechavarria had his chances for a Gold Glove diminished when he made five errors in a stretch of 11 games from Aug. 14-25.
Overall, he has come as advertised in the field.
At the plate, he is a work in progress, though he drove in three runs, including two on his team-leading eighth triple of the year, on Wednesday. Transitioning from the American League after breaking in last year with Toronto, Hechavarria is batting .230 with 14 doubles and three home runs. The Marlins believe in time he will emerge as a far better offensive player.
"I think he's a guy who will hit for power," Redmond said. "I'm not saying he's a guy who will hit 20 home runs, but I think that will come as he gets more and more experience in the big leagues.
"He's had such a great year, defensively, especially. But offensively, he's come a long way."
Joe Frisaro is a reporter for MLB.com. He writes a blog, called The Fish Pond. Follow him on Twitter Share This