Price, power point Rays closer to postseason
Price, power point Rays closer to postseason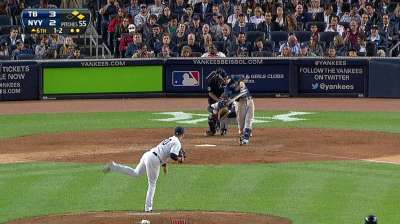 NEW YORK -- Evan Longoria has always possessed a flair for the dramatic, so it seemed fitting that he saved his 30th home run of the season for when the Rays needed it most.
Longoria's blast, the first of two he'd hit on the night, put Wednesday night's game on ice, as the Rays got a solid pitching effort from David Price and coasted to an 8-3 win over the Yankees at Yankee Stadium.
Tampa Bay (89-69) has now won six in a row while moving closer to clinching its fourth playoff spot in the past six years. The Rays' magic number to clinch an American League Wild Card berth is now three, as the Rangers defeated the Astros to keep their own chances alive.
In addition, the Indians' win eliminated the Yankees from any postseason possibilities before this game had even ended. Cleveland remained one game behind Tampa Bay for the top AL Wild Card spot.
The Rays have four games remaining on their schedule, with the finale against the Yankees on Thursday night and three against the Blue Jays in Toronto over the weekend.
"I feel like we feel pretty confident as a group," Longoria said. "But at the same time, we can't let that kind of skew our view of how we need to play these four games. Every one of them is going to be just as important as the next."
Tampa Bay clung to a one-run lead in the sixth and already had left eight men on base when Longoria stepped to the plate with two on and two out to face David Huff. Huff got ahead, 1-2, in the count when Longoria connected on a 92-mph fastball, depositing it into the left-field stands to give the Rays a four-run lead.
"Three runs on 10 hits at that particular juncture," manager Joe Maddon said. "That was the part that's always concerning. We've gone through that -- leaving people on base and the double play have been the two things that have kind of been a negative about us. But we broke through."
Prior to that at-bat, Longoria had not homered since Sept. 7. He added his second home run of the game to lead off the ninth inning and give the Rays a five-run lead. It was his 13th career multihomer game and second this season. The other time also came at Yankee Stadium, on June 20.
"It felt good to win," he said, downplaying his home runs. "You know, regardless, it's really not something I'm just saying. I really don't care at this point how we do it. I just care about winning. To be able to help, obviously today, to do what I did feels a little bit better. But we've been playing good baseball. To be able to eliminate a team like the Yankees, who have been there all year and have played great baseball, played us tough, it's a good thing. It feels good."
David DeJesus followed Longoria's first homer with a solo shot to right field.
Longoria became just the second Ray to have three 30-homer seasons, joining Carlos Pena. He also became the 12th active player to have three such seasons before his 28th birthday and just the eighth third baseman all-time to do it -- the first since Troy Glaus in 2002. The others are Eddie Mathews, Mike Schmidt, Ron Santo, Chipper Jones, Bob Horner and Matt Williams.
Price held the Yankees to two runs on six hits, walking none and striking out eight in seven innings to pick up his ninth win.
"I just thought he kept getting progressively better," Maddon said.
For the second consecutive night, the Rays' offense gave their starter an early lift. James Loney doubled home Wil Myers in the first to put the Rays up, 1-0, but the Yankees answered in the bottom half of the inning when Robinson Cano doubled to drive home Eduardo Nunez and tie the score.
In the third, DeJesus singled home Loney and Matt Joyce's sacrifice fly scored Longoria to put the Rays up, 3-1. Nunez answered with a solo home run to left, giving him three for the season while cutting the lead to one run.
"Felt good in the first, but just because I gave up two runs in the first doesn't mean I don't feel good," Price said. "This is a good team. Robinson Cano is Robinson Cano. So I made pitches after that. It was a good game."
Clearly, Price appreciated Longoria's work.
"It gave me a four-run lead, it was huge. And DeJesus, next batter, next pitch, hit one out as well. So that gave me a five-run lead. When you get those, it's always big. Our team scoring first in the first inning is always big. [When] you go out there and throw your first pitch and you have a lead, you feel a lot better."
Yankees skipper Joe Girardi expressed his disappointment at how his team's season has ended.
"It's never easy," Girardi said. "We worked really hard to get into the postseason and have a chance to win the World Series, and when you're out before the postseason even starts, it's extremely disappointing."
Meanwhile, everything appears to be falling into place for the Rays at just the right time, and on top of that, Longoria appears to be heating up. That could go a long way toward determining what happens over the next several days.
"Obviously, whenever your guy in the middle does that, everybody feeds off that normally," Maddon said. "The other team also sees that and feels that from the other side. So there's always that positive complementary effects that exist when your cleanup hitter gets rolling like that. We've got to keep it going, that was one night. We'll get ready for Thursday."
Bill Chastain is a reporter for MLB.com. This story was not subject to the approval of Major League Baseball or its clubs.