Granderson excited about first free agency
Granderson excited about first free agency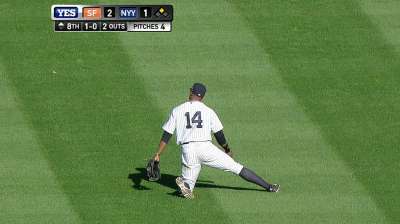 NEW YORK -- Baseball players don't have much control over their fate early in their career. They don't get to choose which team drafts them, and the team that drafts them controls at which level of the organization they play and whether they will be traded or kept.
In fact, players don't get their first say in their career until they become free agents. This offseason, outfielder Curtis Granderson will hit free agency for the first time in his 10-year career, and he's excited about the possibilities.
"You get an opportunity to see what, if other, interests are out there," Granderson said. "You get a chance to make a decision, finally, for the first time in your professional career in terms of where you might want to go play. You can take your time and decide certain things."
Granderson, 32, looked poised to cash in on a high-paying multiyear deal after strong 2011 and 2012 seasons in which he averaged 42 home runs and 113 RBIs, but an injury-riddled 2013 campaign could have softened his market.
A broken arm in Spring Training and a broken pinkie in May -- both sustained on hit-by-pitches -- limited Granderson to just 56 games so far. For the season he is batting .233, with seven home runs and 14 RBIs.
"I don't know [if that will affect me], because I've never done it before," he said. "I'm not too sure how it's going to end up playing out."
Granderson hasn't thought much about the possibility of signing a one-year qualifying offer -- one that would likely be worth around $14 million -- but said it is definitely something he would consider and compare with any other potential offers he receives.
Asked if he thinks he'll re-sign with the Yankees, he said, "I'm not the one writing the checks."
"I've enjoyed my time here," he added. "It's been four seasons, and it's been great. The organization, from top to bottom, has been good to me. I've enjoyed the city, I've enjoyed everything about it. But at the same time, it's definitely a business, and we'll see how it all ends up shaking out."
Josh Vitale is an associate reporter for MLB.com. This story was not subject to the approval of Major League Baseball or its clubs.