Zimmermann finishes just shy of 20-win mark
Zimmermann finishes just shy of 20-win mark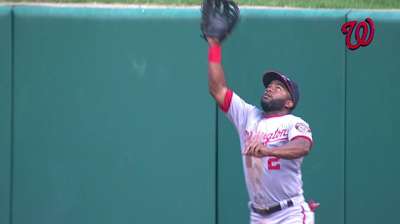 ST. LOUIS -- Before facing them in a three-game series, Nationals manager Davey Johnson let it be known that he didn't want the Cardinals to, as he put it, "run roughshod over them."
St. Louis already had swept the three-games series in April at Nationals Park. And who can forget the devastating loss in Game 5 of the National League Division Series last year, when the Cardinals scored four runs in the ninth inning off closer Drew Storen to advance to the NL Championship Series.
In the Nationals' trip to St. Louis this week, the Cardinals had their way with them. On Wednesday afternoon, Jordan Zimmermann was looking to become the first right-hander in Nationals history to win 20 games in a season. But it wasn't to be, as the Cardinals defeated the Nationals, 4-1. St. Louis swept the three-game series at Busch Stadium, while the Nationals head to Arizona to play their final three games of the season against the D-backs.
"I'll tell you: They kicked our butt in just about every aspect of the game," Johnson said. "I tip my hat to them. [Cardinals manager Mike] Matheny has done a good job over there, I wish them luck. They had their way with us. I kept my regular lineup in there because I wanted to stand out and show them that we are better. We couldn't do that.
"There is a certain amount of pride that comes in when you play these kinds of games. They are still in it, and [there's] a lot riding for them. This club is used to being the spoiler, but we didn't play that well and that hurts a little bit because I wanted to beat them badly."
On paper, the Nationals and Cardinals look evenly matched, but to Washington outfielder Jayson Werth, he sees plenty different in the two clubs.
"The Cardinals have done a good job with their pitching staff. They have good starters, but I think what sets them apart is their bullpen," Werth said. "Even last year in the playoffs, when you look at Game 5, for example, we chased the starter and for five or six innings, they bring in guys that throw 96-plus [mph]. The bullpen is good. They have a lot of velocity and they have a lot of depth."
After the Nationals were eliminated from the Wild Card race on Monday, Werth acknowledged that the team was flat.
"After that first night, I think all bets were off. That one stung a little bit," Werth said. "We were pretty flat yesterday and we weren't much better today."
The Nationals got off to a good start against right-hander Shelby Miller in the first inning, when Denard Span scored on a bloop single by Bryce Harper. After that, Washington's offense was non-existent. The team collected four hits the rest of the game as Miller lasted six-plus innings and allowed the one run.
"I felt like in the first inning, we were having trouble getting ahead in the count, obviously," Miller said. "I walked a couple of guys and one ended up scoring. After that, I thought we did a really good job of settling in and making better pitches and just battling through six innings."
The Cardinals were able to take the lead against Zimmermann in the fourth inning. They tied the score at 1 in the third inning. With a runner on third, Matt Carpenter hit a hard ground ball to Adam LaRoche, scoring Daniel Descalso.
An inning later, Matt Holliday was hit by a pitch and Matt Adams doubled to put runners on second and third with no outs. Yadier Molina then singled to center field, scoring Holliday and Adams.
Two innings later, Adams hit a solo home run to make it a three-run game.
"They flat out kicked our butts. In those six games, they were better than us," Span said. "I feel like earlier in the season, whenever they had guys in scoring position, they got a hit. ... They don't let any opportunities go by them."
Even though Zimmermann lost his ninth game of the season, he was able to win a team-leading 19 games, reach 200 innings and was invited to his first All-Star Game in 2013.
"I came to do one thing and that was to go deep in ballgames, said Zimmermann, who threw a career-high 213 1/3 innings this season. "I felt I was able to do that all year."
When the season started, Stephen Strasburg was considered the ace of the Nationals' staff, but that title belonged to Zimmermann this year.
"When the season started, everybody was talking about Strasburg and all the other guys and I think Zimmermann has been our best pitcher all year," Span said. "Not to take anything away from Strasburg, but Zimmermann has been consistent all season long for us. When he gets the ball, we have a good chance of winning."
Bill Ladson is a reporter for MLB.com and writes an MLBlog, All Nats All the time. He also could be found on Twitter @WashingNats. This story was not subject to the approval of Major League Baseball or its clubs.