Sternberg, Maddon differ on opinion of Wild Card format
Sternberg, Maddon differ on opinion of Wild Card format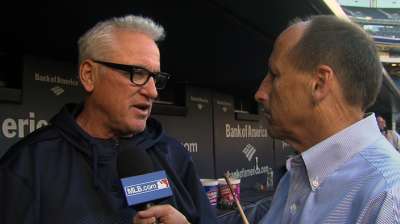 NEW YORK -- On Tuesday, Stu Sternberg said that as the principal owner of the Rays, he'd rather see them play a one-and-done Wild Card Game, because he believes the team that wins that game has a better chance to go all the way than if it had to play a two-out-of-three series to advance to the Division Series.
Sternberg allowed, though, that the fan part of him would prefer a series for the simple fact there would be more baseball to watch.
Despite what his boss thinks, manager Joe Maddon prefers a two-out-of-three series.
"I think so," Maddon said. "It depends on your starting pitching. How rested they are. Who you are going to face. There are so many variables involved in that. I still think the two-out-of-three [series] is more appealing to me than one-and-done -- unless you win the one game."
But when someone pointed out that his team would be fresher if it advanced after playing just one game, Maddon agreed.
"Absolutely, you would be," he said. "But the point is to get to the next series. Otherwise you're going home and you're watching everybody else. I don't know what the right answer is, and I don't pretend to. When I really don't have a clue, I don't have a clue. And this one I don't. I think it's the luck of the draw, how it all turns out, there's a lot of serendipity involved. Rock and roll, whatever the rule is, play it."
Maddon is not looking ahead to playing in the Wild Card Game until the Rays earn a spot in it. He noted that he doesn't know who would pitch in a one-game playoff if the Rays make it.
"I have no clue," he said. "I swear to you. ... I'm not even thinking about Thursday."
Bill Chastain is a reporter for MLB.com. This story was not subject to the approval of Major League Baseball or its clubs.