Roark eyes 2014 rotation after strong start in bigs
Roark eyes 2014 rotation after strong start in bigs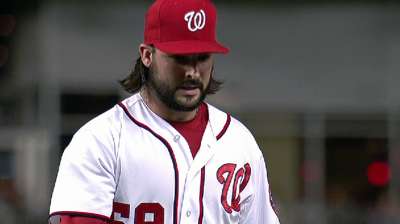 ST. LOUIS -- Back in Spring Training, Nationals right-hander Tanner Roark had no idea that he would be in the big leagues in 2013. It's not like he made a good impression to Davey Johnson during his experience in big league camp.
However, thanks to the recommendation from pitching coordinator Spin Williams, Roark found himself in the big leagues by August. Now there is a good chance that he could be in the rotation next season. In 13 appearances this year, Roark won seven games and had a 1.74 ERA.
"The team is going to do whatever they are going to do," Roark said. "You can't worry about it. You just keep working hard during the offseason, come back for Spring Training and see what they have to offer."
Roark learned some valuable lessons during his short time in the big leagues.
"If you don't hit your spots, the opposing hitters will hit it a long way," he said. "You have to make good pitches and execute them well. … Hitters in the big leagues are smarter, more patient, while looking for their pitch."
Roark pointed out that he often had hitters behind in the count this year, but they often worked their way back to a favorable count.
"I need to improve on that, big time," Roark said.
Bill Ladson is a reporter for MLB.com and writes an MLBlog, All Nats All the time. He also could be found on Twitter @WashinNats. This story was not subject to the approval of Major League Baseball or its clubs.