With Pirates waiting, Cozart gets breather
With Pirates waiting, Cozart gets breather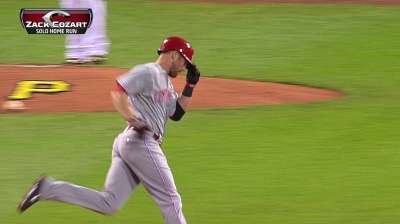 CINCINNATI -- The time for days off for the Reds' regulars has basically come to an end, but manager Dusty Baker squeezed out one more for shortstop Zack Cozart on Wednesday.
Replaced by Cesar Izturis, Cozart had made every start since Aug. 19 before Baker gave him what will likely be his last break until the Reds are done playing in 2013.
"If I didn't give it to him today, I'm not going to give it to him against the Pirates," Baker said, referring the Reds' pivotal series against Pittsburgh this weekend. "And he's not going to get one in the playoffs. This is the day."
For the season, Cozart entered Wednesday batting .254 with 12 homers and 63 RBIs. In his string of 34 consecutive starts, he was better than those numbers, hitting .310 while drawing six walks and driving in 23 runs. Baker said the grind of playing shortstop every day was the primary reason for getting Cozart some rest, but his frequent work on the bases was also a factor.
"Usually after a hot streak comes a cold streak, because you're fatigued because you're on the bases," Baker said. "When you're cold, you're fatigued mentally, because all you're doing is a right turn and sit down."
Jeremy Warnemuende is an associate reporter for MLB.com. This story was not subject to the approval of Major League Baseball or its clubs.