Baker gives Ludwick day off for day game
Baker gives Ludwick day off for day game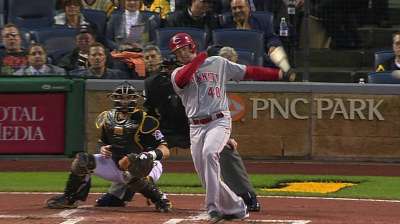 CINCINNATI -- Despite notching his third multihit game in his last four appearances on Tuesday, Reds left fielder Ryan Ludwick wasn't in the lineup for Wednesday's game against the Mets. Although that's partly because manager Dusty Baker saw an opportunity to get Billy Hamilton a start, it's also because Ludwick is still dealing with the side effects of the shoulder surgery that kept him out of action most of the season.
"I got to kind of watch him, because his shoulder is so sore at times," Baker said. "This guy came off a pretty serious operation, and he's back. He probably won't be 100 percent back until next year with the winter. If your body was ever hurt, anybody who ever had an injury, sometimes you're limping, but you're not really hurting anymore."
With a night game followed by an early day game to close out the series against the Mets, Baker wanted to give Ludwick a break on Wednesday. Coupled with Thursday's off-day, that gives Ludwick two days to rest before this weekend's crucial Pirates series, which will likely determine if the Reds are going to play the National League Wild Card Game at home or on the road.
Though he didn't make the start, Ludwick was available in Wednesday's game, but Baker said he wanted to avoid having to use him.
"If he's sore playing, he's going to be more sore off the bench," Baker said. "He's an old car. You got to give him some time to warm up."
Ludwick has gone through plenty of ups and downs since making his return on Aug. 12. In 34 games (30 starts), the 35-year-old Ludwick has batted .258 with a .297 on-base percentage. He's hit two homers, driven in 12 runs and struck out 28 times.
Before going 3-for-5 on Saturday against the Pirates, Ludwick was hitless in his previous three games (0-for-12), indicating the inconsistency he's dealt with since coming back. For the most part, though, Baker has been happy with the way Ludwick has returned.
"He's doing pretty good," Baker said. "[But] he's doing not as well as he'd like to, because he's hard on himself."
Jeremy Warnemuende is an associate reporter for MLB.com. This story was not subject to the approval of Major League Baseball or its clubs.