Second bullpen has Cingrani aiming for Pittsburgh
Second bullpen has Cingrani aiming for Pittsburgh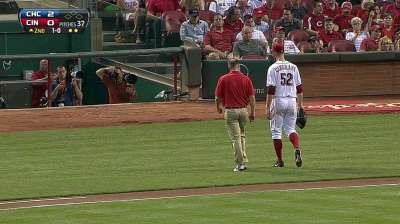 CINCINNATI -- Reds pitcher Tony Cingrani threw his second successful bullpen session in the last three days on Wednesday, and the 24-year-old left-hander could soon be back on the mound pitching in an actual game.
"Today was the next step in getting him ready for the next step," pitching coach Bryan Price said of Cingrani. "And that might be pitching him in the Pittsburgh series [this weekend]. Certainly not starting -- our rotation is set right now -- but I think it'd be nice to get him into a game. Just got to wait and see how he comes out of today's throwing session."
On Monday, Cingrani pitched off a mound without issues for the first time since he left a Sept. 10 start after just 1 2/3 innings with lower back soreness. He was back at it Wednesday, throwing 32 pitches and looking impressive while doing so.
"[That was] probably as well as he's thrown mechanically in several months," Price said. "He's been feeling really good. Most important, I think he's been able to identify where the issues have come from physically, and [he] has satisfied those issues and is back throwing the ball the way he can."
Cingrani's back first started acting up in August, and he eventually hit the disabled after going just 3 2/3 innings on Aug. 20 against the D-backs. He made two starts after his 15 days on the DL, but he was forced out of action again following his Sept. 10 start against the Cubs. This time, Price believes Cingrani has put the injury behind him and won't look back.
"We thought we had gotten over the hump the last time, and we hadn't," Price said. "He was able to focus on his core strength and his hip strength. He just looked better than he has in some time."
Jeremy Warnemuende is an associate reporter for MLB.com. This story was not subject to the approval of Major League Baseball or its clubs.