With Parnell's 2014 status unclear, Black is backup
With Parnell's 2014 status unclear, Black is backup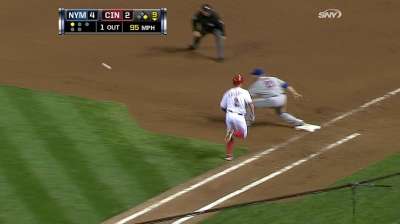 CINCINNATI -- The last time Mets manager Terry Collins saw Bobby Parnell, the closer was walking through Citi Field with a brace around his neck, having lost 30 pounds since surgery to repair a herniated disc.
That led manager Terry Collins to admit his concern Tuesday night about Parnell's ability to be ready for next spring, after establishing himself as a bona fide Major League closer in 2013.
"The guy had neck surgery," Collins said. "He's lost 30 pounds. The word is he'll be 100 percent, and I hope he is. But I look forward to hearing how he's doing in December."
If Parnell is not ready, Collins' contingency plan is already clear. Enamored with rookie Vic Black, who earned his first career save Tuesday night against the Reds, Collins said Black would be the leading candidate to take over the ninth inning in Parnell's absence.
"I'm hoping and praying that Bobby Parnell comes back 100 percent," Collins said. "But ... I'm worried. And we've got to find somebody that certainly can pick that role up. The first time I saw Vic Black and the way he threw the ball, and the conversations I've had with him and the way I've seen him handle himself, I said, 'If Bobby's not 100 percent, we've got a guy who can step up there and do that.'"
Featuring a fastball that registers as high as 97 mph and a low-80s curve, Black has impressed the Mets both with his arsenal and demeanor. Since coming to the Mets in the trade that sent Marlon Byrd and John Buck to Pittsburgh, Black has worked with pitching coach Dan Warthen on minor mechanical tweaks, which he feels have resulted in better control.
"There's been a lot of subtle changes that have really magnified what's been done on the field," Black said.
A Minor League closer for the past two seasons in Pittsburgh's organization, Black, 25, understands the perils of the ninth inning as well as any young player. If he needed any reassurance, 40-year-old closer LaTroy Hawkins gave it to him Tuesday in the form of a modest pep talk before his first save chance.
"He's been right about almost everything, so I continue to listen to him and do it," Black said, citing Hawkins as the ringleader of a friendly Mets bullpen. "When I got here the first day, I felt welcome. To have that feeling of acceptance already ... it's been comfortable here with these guys. It's a family."
Anthony DiComo is a reporter for MLB.com. Follow him on Twitter @AnthonyDicomo. This story was not subject to the approval of Major League Baseball or its clubs.