Dice-K's gem shuts down Reds for series victory
Dice-K's gem shuts down Reds for series victory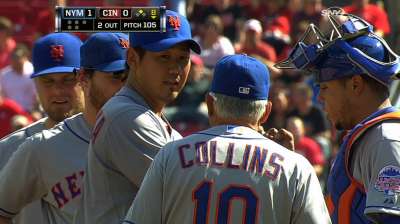 CINCINNATI -- Recently, the implications of the Mets' modest hot streak have begun haunting them. In winning nine of their last 13 games, including a 1-0 victory over the Reds on Wednesday, the Mets have greatly increased the odds that they will finish with one of Major League Baseball's 20 best records. That means they may not receive protection for their 2014 first-round Draft pick, which in turn means that any top-flight free agents they acquire this winter -- outfielder Shin-Soo Choo, for example -- will cost them more than money.
From a luxury suite high above home plate, such logic is obvious. But from the visitors' dugout at Great American Ball Park, or the pitcher's mound or batter's box, the Mets still ache to win as many games as possible. It's human nature.
Individually, Mets players also have plenty they still hope to accomplish. Starting pitcher Daisuke Matsuzaka, for example, wants to prove he deserves to be at this level, which he continued doing with 7 2/3 scoreless innings Wednesday against the playoff-bound Reds.
"If this is my last start, I ... have definitely pitched well," Matsuzaka said through an interpreter. "My intention is to stay over here in the U.S. I want to continue pitching over here in the Major Leagues. And if my previous few starts have impressed anyone, hopefully it has impressed someone enough to make me an offer [for] next season."
Masterful from the start, Matsuzaka struck out three of Cincinnati's first four batters. Though some of his characteristic wildness surfaced at points, most notably when he walked Jay Bruce and plunked Todd Frazier with one out in the fourth, Matsuzaka did not allow any Reds hitters past second base.
"He just outworks you," Mets manager Terry Collins said of Matsuzaka, who holds a 1.38 ERA over his last four starts. "He just outthinks the hitter and makes his pitches."
The greatest threat to score reached base in the fifth inning, when speedy Reds rookie Billy Hamilton beat out an infield single. But Mets catcher Juan Centeno threw out Hamilton attempting to swipe second, his first caught stealing in 14 career attempts.
"Yesterday I was joking with the guys in the bullpen, 'I'm going to get that guy tomorrow,'" Centeno said. "And I got him."
Though the Mets could do little offensively against Mat Latos, whom the Reds shifted up in their rotation to prepare for the playoffs, Eric Young's broken-bat RBI single in the third inning was enough. The Mets mustered just three other hits in seven innings against Latos, striking out seven times.
"Those kinds of things happen," Latos said. "Early in the game, I felt like I didn't have as good of command as I did down the stretch the last couple of innings."
Matsuzaka departed with two outs in the eighth and a runner on second. After walking Choo and advancing both runners on a wild pitch, reliever Pedro Feliciano finally escaped the inning by coaxing a flyout from Joey Votto. Unavailable the previous two nights with right triceps soreness, LaTroy Hawkins retired the side in order in the ninth.
And with that, the Mets took two of three from the Reds at Great American Ball Park, ensuring that Cincinnati will not make a late run at the National League Central crown. It was a point of pride for the Mets coming into this series, relishing their role of spoiler against a team headed toward the NL Wild Card Game.
But Wednesday's victory also temporarily lifted the Mets out of a four-way tie for the ninth-worst record in MLB. Under the league's Collective Bargaining Agreement, the worst 10 teams each season will receive protected first-round Draft picks no matter which free agents they sign over the winter. The 11th-worst club must forfeit its first-round pick to acquire anyone who receives a qualifying offer from his former club -- generally, the market's most elite players.
So the Mets successfully played spoiler in Cincinnati, but at what cost? They will not know until the regular season ends and the Hot Stove opens for business, though they do know one thing now: behind Matsuzaka, the Mets satisfied their itch for competitive baseball, protected Draft pick or not.
"This is a very good lineup and a small ballpark," Matsuzaka said. "I just focused on trying to limit the amount of extra-base hits they got off me. It was really a good opportunity to pitch against a team like this and see how I can pitch, and how well I can pitch against them."
Anthony DiComo is a reporter for MLB.com. Follow him on Twitter @AnthonyDicomo. This story was not subject to the approval of Major League Baseball or its clubs.