McDonald's homer boosts Cubs in home finale
McDonald's homer boosts Cubs in home finale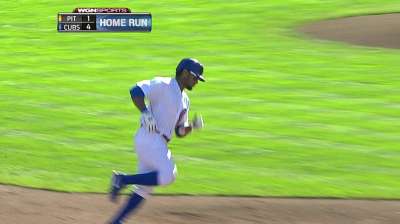 CHICAGO -- The Pirates may be headed to the postseason, but the Cubs were able to celebrate one more win at home Wednesday.
Darnell McDonald hit a pair of doubles and a tiebreaking three-run homer to lift the Cubs to a 4-2 victory over the Pirates and close the home portion of their schedule on a positive note in front of 26,171 at Wrigley Field.
After the final out, the Cubs players and coaches tipped their caps and waved to the fans from in front of the dugout to say goodbye.
"It was a nice gesture," Cubs manager Dale Sveum said. "It hasn't been a good season, but it's nice to see the fans come out and to win the last game was nice."
The Cubs had not beaten Pirates starter Francisco Liriano in four previous meetings, but with the game tied at 1 in the sixth, Donnie Murphy singled and Junior Lake walked to set up McDonald's first home run since April 30, 2012. Despite their struggles this season, the Cubs lead the National League in home runs on their home turf with 102.
"He was seeing the ball great all day," Liriano said of McDonald. "I tried to come in with a fastball, but it ran back out over the plate."
McDonald had doubled to lead off the fourth, but was easily thrown out on a bad baserunning move as he tried to advance to third on Ryan Sweeney's fielder's choice.
"I definitely wanted to atone for that," McDonald said.
The Cubs would like to make up for this season. They finished 31-50 at Wrigley Field, setting a franchise record for most losses at home in a season. There were some gaffes Wednesday as Pedro Alvarez reached third on shortstop Starlin Castro's error in the Pirates fourth, but also some highs as Murphy ended the inning with a leaping catch of Clint Barmes' liner, then stepped on third for the double play.
Whether it was Sveum's last game at Wrigley as Cubs manager is still to be determined. Theo Epstein, president of baseball operations, was expected to meet Monday in Chicago with Sveum and the coaching staff to discuss their future.
"The staff is great, everyone, from Dale to our bullpen catchers," Anthony Rizzo said. "We've had some fun, and we've hit our bumps along the road, but at the same time, it's a business. It's out of any players' hands and even the coaches' hands as well."
Sveum isn't the only one being evaluated. Cubs starter Jake Arrieta, acquired in July from the Orioles in the Scott Feldman deal, is vying for a spot in the 2014 rotation. The right-hander gave up one run on four hits over six innings, and was able to escape the messes.
"There are going to be jams in the course of the game," Sveum said. "The difference between guys who have a good season and sustain innings is guys who get out of those jams."
In nine starts with the Cubs, Arrieta held opponents to a .185 batting average, striking out 37 over 51 2/3 innings. He credited the change of scenery as well as the Cubs coaching staff, beginning at Triple-A Iowa with pitching coach Mike Mason, for the improvement.
"I just feel more confident and more prepared to put together quality starts and quality outings than I was in the past," Arrieta said. "I think that will show dividends."
Liriano had given up four runs over 29 innings in his four previous outings against the Cubs, and on Wednesday, was charged with four runs over five-plus innings. Darwin Barney doubled with one out in the first and scored on Rizzo's single.
"We just got some balls to fall," McDonald said of the difference against the Pirates lefty. "Liriano's tough. He almost no-hit us the last time out. Guys got some hits early, and when you get hits, it breeds confidence in the lineup. You can't make many mistakes against good teams and good pitchers like that. Fortunately, we were able to overcome mistakes and get the win."
The Pirates loaded the bases with two outs in the third and Arrieta then walked Justin Morneau to force in a run and tie the game. Pittsburgh added a run in the ninth on Jose Tabata's RBI triple off Kevin Gregg.
The Pirates have secured a postseason berth, but they are still jockeying for position with the Cardinals and Reds, who were eliminated from winning the NL Central with a loss Wednesday to the Nationals. The Cubs find themselves still playing a minor role as they head to St. Louis for the final three games of the season.
"We still have three games left and obviously it's not looking good for Cincinnati and Pittsburgh right now [to win the division], but hopefully we can help them out and win Friday and see what happens the next two days," Sveum said.
They can definitely learn from watching the Pirates.
"We're trying to get to where these teams are at that we're playing down the stretch," McDonald said. "We're watching how they go about their business, how they play the game. It's important for us as a young team. I think every one of us in here wants to finish the season strong."
Carrie Muskat is a reporter for MLB.com. She writes a blog, Muskat Ramblings, and you can follow her on Twitter @CarrieMuskat. This story was not subject to the approval of Major League Baseball or its clubs.