Bourn leaves game with mild wrist sprain
Bourn leaves game with mild wrist sprain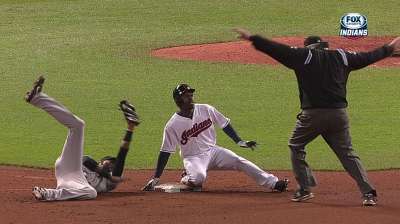 CLEVELAND -- When the ninth inning of Tuesday's game against the White Sox began, Michael Bourn was not occupying his usual spot in center field.
In the fifth inning, Bourn reached on a bunt single and made it to second on White Sox starter Hector Santiago's throwing error. As he slid into the bag, Bourn jammed his right wrist, which later stiffened up. He left the game because he didn't think he could hit or throw well enough to continue playing. He was diagnosed with a mild sprain.
"He got checked out and everything structurally is OK," Indians manager Terry Francona said afterward. "We'll check him in the morning to see how he's doing."
Bourn did not undergo X-rays or an MRI, which might not even be necessary. He did have ice on the wrist after being taken out.
"I should be OK," Bourn said. "If you see me come out, then you know [something is wrong]. I'm not going to come out for just anything. But I didn't want to cost the team, with a ball out there hit to me and I couldn't really throw like I wanted to. I should be fine. We'll see what happens tomorrow."
Mark Emery is an associate reporter for MLB.com. This story was not subject to the approval of Major League Baseball or its clubs.