Reds move up Latos, position him for next week
Reds move up Latos, position him for next week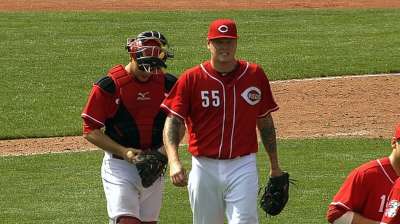 CINCINNATI -- Reds manager Dusty Baker announced the expected after Tuesday night's 4-2 loss to the Mets, confirming that Mat Latos will take the mound for Wednesday's rubber match against New York.
Greg Reynolds was originally slated to start the series finale, but the space reserved for the next day's starter on the white erase board in manager Dusty Baker's office was blank prior to Tuesday's game, indicating a change was going to be made.
Latos last pitched on Friday against the Pirates and gave up four runs on eight hits and two walks in six innings. A report surfaced on Monday that the 25-year-old right-hander was still dealing with an abdominal strain sustained in June, but Latos denied that was the case on Tuesday.
"He says he's fine," Baker said. "He said that whatever was written was a while ago and they made it sound like it was yesterday. He's fine. He's ready to go."
By pitching Latos on Wednesday, Baker and the Reds will have arguably their most dominant starter this season throwing in an important game, as Cincinnati enters the day trailing first-place St. Louis by three games in the National League Central with four games to play.
Perhaps as importantly, though, Latos will now be available for two potentially even bigger games.
If the Reds manage to tie the Cardinals for first by the time the season ends Sunday, Latos would likely take the ball on regular rest for a tiebreaker on Monday. If Cincinnati can't make up enough ground and ends up in the Wild Card game, Latos would receive an extra day of rest and be able to take the mound on Tuesday.
In five starts against the Cardinals, Latos is 3-1 with a 2.38 ERA, including a complete-game victory on Sept. 2. Latos has also made five starts against the Pirates but is just 1-1 with a 4.08 ERA in those outings.
For the season, Latos has gone 14-6 with a 3.23 ERA. One more win would set a career high for Latos, who gave up four runs in 6 2/3 innings against the Mets in late May.
Jeremy Warnemuende is an associate reporter for MLB.com. This story was not subject to the approval of Major League Baseball or its clubs.