Surgically repaired left knee impacting Nicasio
Surgically repaired left knee impacting Nicasio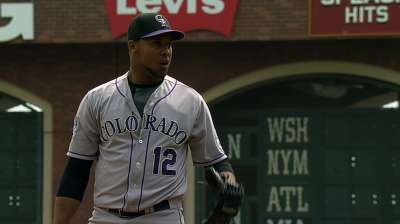 DENVER -- Rockies right-hander Juan Nicasio tried to keep secret the fatigue and pain in his legs in general, and his surgically repaired left knee in particular. The problem is his past two starts, in which he didn't make it through the third inning, scream something is wrong.
The issue isn't serious. Nicasio said he will make his final start of the season, Saturday at Dodger Stadium. Nicasio (8-9, 5.32 ERA in 30 starts) said the knee issue is making it difficult to throw his fastball, but he believes there is value in finishing his first season without extensive time on the disabled list.
"It's a long season and I feel a little tired, but [I] want to keep pitching," said Nicasio, who never let on that there was a physical issue until asked directly about it on Tuesday. "I haven't pitched that much the past two years."
Nicasio, who turned 27 on Aug. 31, was first called up from Double-A in May 2011. On Aug. 5, 2011, Nicasio suffered a broken neck and fractured skull when he was hit by a line drive. On June 2, 2012, in his 11th start, he suffered the knee injury on a hard-hit ball through the box. Nicasio tried to come back, but he wound up having microfracture surgery on July 16.
The rehab cost him conditioning time, and the results show in his fastball. Nicasio can't land on his left foot with the force that it takes to throw a 94-mph fastball, which he possessed when he first came to the Majors.
"I don't like excuses," Nicasio said. "But it is hard pitching that way, with my knee. I can't push as hard."
While the issue wasn't made public, pitching coach Jim Wright and head athletic trainer Keith Dugger were fully aware of Nicasio's pain and fatigue. Nicasio, his coach and trainer all agree that he should take three weeks' rest after the season and then begin a normal offseason conditioning program. Nicasio said he will pay special attention to his legs and building the throwing shoulder. Nicasio said he is not sure if he'll pitch for his Dominican Winter League team, Aguilas Cibaenas.
Early this season, Nicasio fell into a pattern of pitching well early then fizzling in the fifth or sixth inning. He was 7-9 with a 5.31 ERA when the Rockies sent him to Triple-A Colorado Springs for two starts. When Nicasio returned, the results were much different. He has made 14 starts since his return, and in the first 12, he went 4-3 with a 3.68 ERA.
However, in his past two, he has gone 2 2/3 and 2 1/3 innings, respectively, and given up 15 hits and 15 earned runs.
At times since his return he has reached his top fastball velocity, but there is little consistency. At times he throws 88, at times 92, and at times everywhere in between. But in some of his best outings, he has used a hard slider and a looping slider, which he developed over the past year, and has gradually increased the use of his changeup.
"I'm learning a lot," Nicasio said. "Now I know the hitters and how to pitch them, things like that."
Nicasio's numbers have taken a hit in his past two starts, with the ERA rising by nearly three-quarters of a run. But the Rockies believe there is value in Nicasio continuing to pitch. The club heads into 2014 feeling good about left-hander Jorge De La Rosa and right-handers Jhoulys Chacin and Tyler Chatwood. Nicasio will have to compete for a spot, but when healthy, Nicasio has shown the power arm the organization desires, and the team wants to be sure he understands the grind of pitching through September.
"He's been through a lot, so it's important for him mentally and important for him physically to believe he can get through the whole season and not give in to the fact he's tired," Wright said. "Make pitches and see what happens.
"He started this season with a fastball only, and now he's got a slider and his changeup is developing, so next year he should have three workable pitches in a Major League game. Coming into next season, with the experience of pitching 160 innings this year, he should be ahead in the game."
Thomas Harding is a reporter for MLB.com. Read his blog, Hardball in the Rockies, and follow him on Twitter @harding_at_mlb. Ian McCue is an associate reporter for MLB.com. This story was not subject to the approval of Major League Baseball or its clubs.