Ethier making progress, not quite ready for game action
Ethier making progress, not quite ready for game action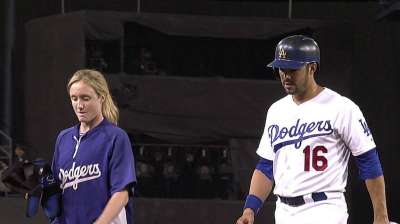 SAN FRANCISCO -- Dodgers outfielder Andre Ethier's sprained left ankle now allows him to hit and field, but noticeable hesitation as he rounded second base during workouts Tuesday showed he's not ready for game action.
"Hitting is fine and I was good shagging [fly balls], but rounding the bases is the biggest issue," said Ethier, who is in his second week on the sidelines.
Ethier said the discomfort he has is believed to stem from the periosteum, the sheath that covers the bones of the leg, with pain similar to shin splints.
"It's frustrating to be where I'm at," Ethier said. "We still have time, but not a lot of time. I'm aware, everyone is aware."
Manager Don Mattingly said he remains "optimistic" and "hopeful" Ethier will return in time to play in a few games.
"This is where Matt got stuck for a day or two," Mattingly said, referring to Matt Kemp's return from ankle and hamstring issues last week.
Ken Gurnick is a reporter for MLB.com. This story was not subject to the approval of Major League Baseball or its clubs.