Thornburg's career night spoiled by Braves' walk-off
Thornburg's career night spoiled by Braves' walk-off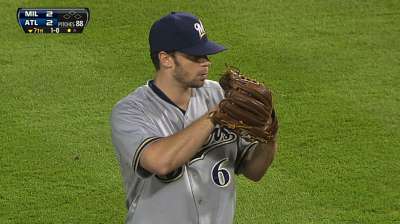 ATLANTA -- Tyler Thornburg did his part, not only on Tuesday night at Turner Field in his season finale but throughout August and September, as he shook off a nightmarish first half at Triple-A Nashville to make a case for the Brewers' 2014 starting rotation.
Wily Peralta sealed his spot last September. Did Thornburg do the same this year?
That decision is now out of his right hand.
"It's all on them, really," Thornburg said, referring to the Brewers' decision-makers. "I did my part to prove myself, and if the ball is in my court, then yeah. But, unfortunately, it doesn't work like that."
Baseball is a tough business sometimes. Take Tuesday, when Thornburg capped his comeback with a career-high eight strikeouts and yet another quality start, but the Brewers fell to the Braves, 3-2, on Andrelton Simmons' two-out single in the bottom of the ninth inning.
Pitching in front of about 50 family and friends -- Thornburg went to high school about 15 miles north of Turner Field -- the soon-to-be 25-year-old limited the postseason-bound Braves to two runs on seven hits in a career-high seven innings, before exiting with the teams tied at 2. Braves closer Craig Kimbrel struck out all three Brewers batters he faced in the ninth to earn the win, and Brewers reliever Donovan Hand took the loss in the bottom of the inning that began with Justin Upton's first-pitch single to center field.
Two batters later, Evan Gattis moved the winning runner into scoring position with an infield single. Two batters after that, with two outs, Simmons drove an 0-1 pitch to right-center field and ended the game.
The 93-64 Braves won behind starter Freddy Garcia's 6 2/3 strong innings to maintain their half-game lead over the Cardinals in the race for the National League's top seed. Atlanta also boosted baseball's best home record to 53-23.
"We played a good game. We didn't do much damage offensively, and that sometimes has to do with the pitcher," Brewers manager Ron Roenicke said. "When Freddy is out there pitching, you really have to have a veteran team that understands how to sit offspeed, and it's pretty tough for young guys to figure him out. So I didn't have a good feeling that we were going to score a lot of runs off him, but the way Thornburg has been pitching, I thought, 'Well, we're going to stay in the game.' And we did."
Thornburg was charged with two runs on seven hits and only one walk in his seventh quality start in as many tries, finishing with a 1.47 ERA in his Brewers starts after going 0-9 with a 5.79 ERA in 15 early-season starts for Nashville.
Thornburg has admitted after recent outings that his concentration lapsed at times in Triple-A, and Minor League teammates also chalked up his struggles to poor luck. But the statistics say the differences were stark.
"He's not trying to force-feed the fastball and throw it as hard as he can," Brewers pitching coach Rick Kranitz said. "He pitched. That's been our whole theme -- pitch. Pitching is location, mixing 'soft' in fastball counts. That's what he's doing, and that's what he has to continue to do.
"If he does what he did there, he's got every opportunity to start."
Kyle Lohse, Yovani Gallardo and Peralta are expected to occupy three spots in next year's pitching rotation. Marco Estrada has pitched just as well as Thornburg of late and has some track record. Big Johnny Hellweg was the Pacific Coast League Pitcher of the Year and the Brewers' Minor League Pitcher of the Year, and has one more start on Friday against the Mets to state his case.
For Thornburg, according to Brewers catcher Jonathan Lucroy, the next hurdle is pretty clear.
"I think it's control," Lucroy said. "He's throwing pretty decent now, but he got beat on about three missed spots in big situations [against the Braves]. Can't do that. He's not going to be perfect, but the locations that were missed were pretty significant. So we've got to be better at that. But overall, he did very well, I think, considering his season in Triple-A and coming in the second half here and getting right into the rotation. I think he's done exceptionally well overall."
The Brewers did not trail Tuesday until Simmons' fly ball found its way to the outfield grass in right-center field. Lucroy delivered his third RBI in two nights with a single in the third inning, and after the Braves tied the game in the bottom of the fourth, Jeff Bianchi led off the fifth with his first home run of the season for a 2-1 lead.
The Braves tied the game at 2 in the sixth inning, when Jason Heyward, Upton and Freddie Freeman strung together singles against Thornburg, but Thornburg retired Gattis on a comebacker to end that inning, then pitched a 1-2-3 seventh that ended with his eighth strikeout of the night.
Thornburg had worked an even six innings in each of his first six starts.
"It was nice to see him get back out there," Roenicke said. "To try to limit him to six innings every time -- in his progression, he's going to need to go farther. And he did. He came out and had a real nice seventh inning, so I was glad we left him in there."
Back in the clubhouse, Roenicke patted Thornburg on the back for a season well done.
"I know there's a lot of people out there that don't think I belong or don't think I belong in the starting rotation," Thornburg said. "I did pitch against four playoff teams -- Texas, [Atlanta], St. Louis and Pittsburgh -- it wasn't exactly bad teams that I was facing. I'm really excited about that, and it obviously gives me a lot of confidence going into the offseason."
Adam McCalvy is a reporter for MLB.com. Read his blog, Brew Beat, and follow him on Twitter at @AdamMcCalvy. This story was not subject to the approval of Major League Baseball or its clubs.