CarGo trying to determine if he'll need surgery
CarGo trying to determine if he'll need surgery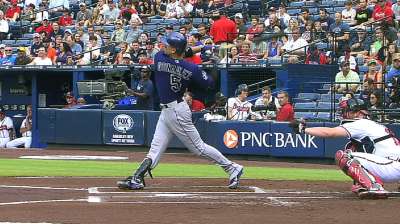 DENVER -- Rockies left fielder Carlos Gonzalez is still weighing his options, trying to figure out the best long-term solution for his sprained right middle finger.
Gonzalez took swings in the batting cage before Tuesday's game against the Red Sox and said he will use these sessions as a test for whether or not to pursue surgery. Swing and misses have triggered a flare-up before, and he knows one misguided swing could mean further trouble.
"The thing is, I'd be in the same situation like we're at right now and feel good, but it can take just one swing," Gonzalez said. "So that's how we're going to know if we're going to need the surgery if it just blows out and goes back to zero."
The All-Star left fielder has been taking about 15 swings in cage sessions, but he will keep bumping that number up over the next few days and see how the finger responds. Gonzalez will decide on surgery no later than Nov. 1 to make sure the finger is back at full strength before Spring Training begins in February.
Doctors have offered varying opinions on surgery, but Gonzalez is still hoping he can avoid a procedure.
"I think I'm the one who's going to make the call," he said. "So we're just trying to do everything possible to avoid the surgery. But if we have to get it fixed by surgery, we're just going to have to."
The fear is that surgery could mean lost flexibility in Gonzalez's finger, which is why he's so hesitant to head for the operating room.
"It can get stiff, I can lose my grip," Gonzalez said. "I don't want to do that. I just want to be able to play without pain, that's it."
Thomas Harding is a reporter for MLB.com. Read his blog, Hardball in the Rockies, and follow him on Twitter @harding_at_mlb. Ian McCue is an associate reporter for MLB.com. This story was not subject to the approval of Major League Baseball or its clubs.