Black optimistic Venable will return this week
Black optimistic Venable will return this week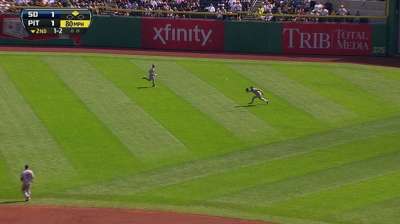 SAN DIEGO -- While Will Venable was still unavailable for Tuesday's game against the D-backs, Padres manager Bud Black sounded optimistic that the outfielder could return to action for some portion of the final week of the season.
Venable has not played since Sunday due to an abdominal injury that Black said has been nagging Venable for a few weeks.
"We are going to stay away from Will again today," Black said. "We are going to see how this abdominal strain continues to progress, but we are hopeful that he will be back in there. I know that he feels as though he can help us win."
Having appeared in a team-high 146 games so far this season, Venable will have only five more opportunities to play after Tuesday, as the season concludes Sunday in San Francisco.
Black said the team's outfield is depleted, with both Kyle Blanks and Logan Forsythe suffering from injuries, as well, but was confident the club could get through it and finish the season strong.
"There are a couple of guys who are banged up," Black said. "It's thinning out, but we'll get through it."
Tim Powers is a contributor to MLB.com. This story was not subject to the approval of Major League Baseball or its clubs.