Wilson returns for first time since joining Dodgers
Wilson returns for first time since joining Dodgers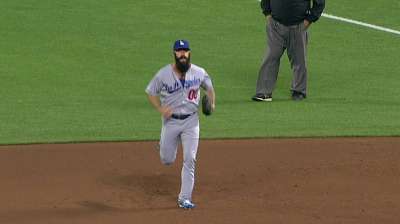 SAN FRANCISCO -- For the first time since he traded his Giants uniform for Dodger blue, Brian Wilson arrived at AT&T Park on Tuesday for the latest reprisal of the storied rivalry between the two clubs. Only this time, the colorful relief pitcher and his beard will be sitting in the visitor's dugout down the first-base line.
Though it will be the first time for the home San Francisco fans to see Wilson with the Dodgers, manager Bruce Bochy said it won't be a shock to see him on the other side.
"That's kind of over, been done with," Bochy said. "Not something I think about and say, 'That's odd.' I mean, there's changes in baseball with everybody. The first time you see him, sure, it seems a little different, maybe a little odd. At this point he's with the Dodgers and it doesn't seem strange at all now."
Wilson became a fan favorite with the Giants during his seven-year stint in San Francisco. He pitched against his former teammates in Los Angeles two weeks ago, making two appearances that included a shutout 10th-inning performance that earned him a win.
In 15 games since returning from Tommy John surgery this year he's posted a 0.79 ERA. Above all, Bochy said he's enjoyed seeing Wilson return to baseball.
"I think we're happy for Brian," Bochy said. "He's back pitching and it's a long road and it's a road that hasn't been traveled very much, [with a] second Tommy John [surgery]. We are -- and I'm speaking for a lot of guys -- happy that he's back competing and doing what he loves to do."
Alex Espinoza is a contributor to MLB.com. This story was not subject to the approval of Major League Baseball or its clubs.