Miner turns in solid start as Phils ponder future
Miner turns in solid start as Phils ponder future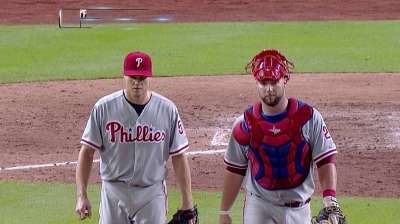 MIAMI -- Phillies general manager Ruben Amaro Jr. still believes pitching wins championships.
It is why he helped assemble one of the greatest rotations in baseball history in 2011, when the Phillies boasted Roy Halladay, Cliff Lee, Cole Hamels, Roy Oswalt and Vance Worley. Amaro talked pitching before Tuesday's 2-1 victory against the Marlins as the Phillies try to determine if they want to bring back Halladay, whose season ended after just 16 pitches in Monday's start because of "arm fatigue."
"We want to create as much depth as we can," Amaro said about next season's rotation. "We have to talk internally more about Doc. But Doc's a pretty special guy. And if there was somebody that was going to come back and be an effective pitcher, it would be him. We'll have to see whether we think he can. Again, if we think he's going to be a viable possibility for us, we'd like to try to bring him back. I'd like to think it's not the last we'll see of Doc."
But the need for a vastly improved rotation is apparent. Phillies starters have a 4.36 ERA this season, which entered the night 25th in baseball. They have a 5.24 ERA since the All-Star break, which was last in baseball.
Right-hander Zach Miner started Tuesday. He was pressed into duty when right-hander Kyle Kendrick's season unexpectedly ended because of a shoulder injury. Miner allowed one run, four hits, two walks and struck out three in four innings.
He allowed two hits in three scoreless innings in a loss last week to the Marlins.
Miner has a 3.08 ERA in 15 appearances this season, but he is not a candidate to pitch in the rotation next year. He was not eligible for a win in Miami since he threw only four innings. Mike Stutes made his first appearance since June and earned the decision for his perfect fifth.
"I'm happy with every outing I have right now," said Miner, who had not pitched in the big leagues since 2009. "It's been a long couple of years. I'm very grateful for the opportunity the Phillies are giving me. I get to start. It's great. If I was throwing the seventh or eighth or mopping up, I'd have fun doing that, too."
The 2013 rotation looks much different from the one that finished the '11 season, when the Phillies won a franchise-record 102 games. The final five games will be pitched by Hamels on Wednesday, Tyler Cloyd on Thursday, Lee on Friday, the bullpen on Saturday and Miner in Sunday's season finale.
"Starting pitching is very much a priority, and also depth in starting pitching," manager Ryne Sandberg said. "You need backups in starting pitching to get through a Major League season."
Hamels and Lee will be in the rotation next year. Cuban right-hander Miguel Alfredo Gonzalez is expected to be in there, too. That leaves two openings, with big questions surrounding Halladay, Kendrick and other less-proven pitchers in the organization like rookie right-hander Jonathan Pettibone.
Those decisions will come later, but Sandberg hoped Tuesday that Miner could give his team a chance to snap a five-game losing streak. Miner did that.
The Phillies offense barely made a peep, but they took a 2-0 lead in the first inning. Jimmy Rollins doubled to get things started, before Marlins pitcher Henderson Alvarez walked Chase Utley and Domonic Brown to load the bases with one out.
Alvarez then walked Darin Ruf to score Rollins, and Kevin Frandsen's fielder's choice scored Utley.
"I was a little out of control -- three walks," Alvarez said in Spanish. "I'm not the kind of pitcher who walks guys. My mechanics were a little too sped up."
The Marlins scored a run in the second, but the Phillies' bullpen kept the weak-hitting Marlins at bay.
"That was the first time we'd seen Stutes in a while," Sandberg said. "He was throwing 89. But what he did was paint the kneecaps. He had really good downward plane with good location. He threw some good breaking balls and got his last strikeout on a real nice freezing slider."
Todd Zolecki is a reporter for MLB.com. This story was not subject to the approval of Major League Baseball or its clubs.