Marshall glad to be back pitching in big spots
Marshall glad to be back pitching in big spots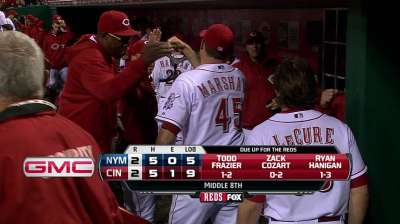 CINCINNATI -- Reds reliever Sean Marshall faced just one batter on Monday against the Mets, but that didn't prevent his outing from being one of the most gratifying he's had in a long time.
After four months on the disabled list with a left shoulder sprain, Marshall made his first appearance since May 20 last week against the Astros. It wasn't until Monday, though, that the 31-year-old left-hander pitched in a truly high-pressure situation.
With the game tied at 2 in the top of the eighth, the Mets put runners on first and second with one out against Sam LeCure before Marshall came on to face lefty Lucas Duda. On the fourth pitch of the at-bat, Marshall threw a curveball and induced an inning-ending double play. As he walked off the mound, Marshall gave a subtle fist pump and was then greeted with a hug from LeCure in the dugout.
"We all pull for each other," Marshall said of the Cincinnati relievers. "They've been pulling for me to get healthy and be back out there pitching in situations like that. It touches me a little bit to have the support that I've had. People tell me it's nice to see me back out there."
One of those people is Reds manager Dusty Baker, who has juggled various injuries in his bullpen and his lineup all season.
"It's good having Marshall back because that's his job -- to come in like that in a tough situation against lefties," Baker said. "Man, that was a heck of a double play they turned. It was just great to win."
The 3-2 win helped the Reds clinch a playoff spot in consecutive seasons for the first time since 1975-76. It also provided a big boost for Marshall as he looks to make sure he's in top form for a postseason run.
"It was a big game," Marshall said. "I was very excited to be out there and put in that opportunity again. I haven't pitched in that tight of a ballgame since May, and I felt like I was right back at home. That's what I'm looking for."
Jeremy Warnemuende is an associate reporter for MLB.com. This story was not subject to the approval of Major League Baseball or its clubs.