Cain outdueled by Ryu in Giants' loss to Dodgers
Cain outdueled by Ryu in Giants' loss to Dodgers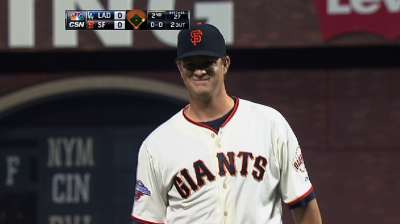 SAN FRANCISCO -- Matt Cain should be used to it by now, but it doesn't make defeat any easier. Keeping with a trend that's followed him throughout the years, Cain did his part to give the Giants a win on Tuesday night, but the offense didn't hold up its end of the bargain.
The result? A 2-1 loss at the hands of the arch enemy Dodgers to open the final homestand of the 2013 season.
"We're cold right now," Giants manager Bruce Bochy said.
As good as Cain was, giving up a pair of solo shots on an otherwise effective night, his counterpart Hyun-Jin Ryu was even better. Both pitchers tossed seven strong innings, but it was Cain who shouldered the load of the loss after the game.
"I made two big mistakes and that cost us," Cain said.
Mistake No. 1 came with one out in the fifth inning, when Yasiel Puig launched one in to the center-field bleachers for his 19th home run of the year. Mistake No. 2 came when Matt Kemp drilled one to left field for a no-doubt solo shot in the sixth. Kemp's blast gave the Dodgers a 2-1 lead after Tony Abreu tied it up at 1 with a homer of his own in the bottom of the fifth.
Cain said Puig was able to capitalize on a slider that didn't have much movement, while Kemp was able to drill a fastball that was supposed to be thrown outside but ended up on the inner half of the plate. From that point on it was all zeros, as the teams played at a brisk pace in the latest reprisal of the storied rivalry.
"Cain pitched well, he pitched great," Bochy said. "Our bullpen did a good job, but they pitched well, too. We just couldn't get much going offensively as you saw. Couldn't get guys on base and we logged a few strikeouts."
In all, Cain gave up two earned runs on seven hits and three walks while striking out four, dropping his record to 8-10 and ERA to 4.00. With the victory, Ryu moved his record 14-7 and his ERA to 2.97 as he bolstered his case for National League Rookie of the Year.
"Ryu did a good job of mixing the ball up well," Cain said. "You've got to give credit to him, too. He did a good job and their bullpen did a good job of shutting it down, too. It's not easy to go ahead and score runs against those guys."
The game's score may have been decided by the sixth inning, but that's not to say there wasn't some late-inning drama.
As Gregor Blanco stepped up to the plate as a pinch-hitter to lead off the bottom of the eighth, former Giants closer and current Dodgers relief man Brian Wilson was summoned from the bullpen. As he made the trot from the mound in right field to the mound in the middle of the diamond, he was received with a smattering of boos and standing applause.
"Definitely a little different watching him coming in from over there," said Cain, who was Wilson's teammate for seven seasons. "It's part of the game, guys get moved around and whatever. But we're happy that he's healthy because he's meant a lot to us and what we've done here in the past years."
Wilson made quick work of his ex-teammates, tossing a perfect, 10-pitch inning that included two strikeouts. Blanco was Wilson's first strikeout victim and the two appeared to stare each other down after Wilson tried to control the inside of the plate with a fastball that nearly grazed Blanco, but the Giants outfielder said it was nothing more than competition.
"That's why we're here," Blanco said. "We always want to compete and I know he wanted to compete and I wanted to compete also. That's the battle that we have to have every single time. I think it's fun to see stuff like that."
Likewise, Wilson didn't make anything extra out of the reunion.
"I wasn't expecting anything," he said. "You're not going to get a rise out of me. It's all good. Pitched the eighth, did my job. What I did here. If anything, I showed them exactly who I've been."
The sellout crowd rose to its feet again in the bottom of the ninth, when a wild pitch sent pinch-runner Francisco Peguero to second base with one out. But Dodgers closer Kenley Jansen finished off the save by striking out Hunter Pence and Pablo Sandoval, dropping the Giants record to 72-85, just a half-game better than last-place Colorado in the National League West.
Following Tuesday night's game, Bochy also confirmed that Barry Zito will make Wednesday's start in place of Madison Bumgarner, who will be shut down the rest of the year.
"I wanted to give him one more start this homestand," Bochy said of Zito. "Looking at it, we decided tomorrow would be the best time to give him this start. It gives Madison a break and he's done a lot. We know what he did last year for us and he's done everything we've asked."
Alex Espinoza is a contributor to MLB.com. This story was not subject to the approval of Major League Baseball or its clubs.