Scioscia keeping an eye on Williams
Scioscia keeping an eye on Williams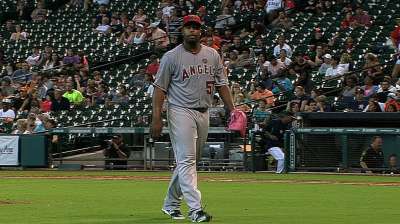 ANAHEIM -- Jerome Williams was hit in the foot with a ball Monday, and although Angels manager Mike Scioscia indicated the right-hander will still start Thursday in Texas, he did leave the door a little bit open.
"He's still on board to start on Thursday," Scioscia said. "But we'll see."
Williams was playing catch with Dane De La Rosa and an errant throw hit his left foot. Williams was "hobbling a little" Monday, but was doing better Tuesday.
"We'll see how he feels," Scioscia said. "We obviously have some options, but we'll see."
William Boor is an associate reporter for MLB.com. This story was not subject to the approval of Major League Baseball or its clubs.