Maddon sees both sides of roster debate
Maddon sees both sides of roster debate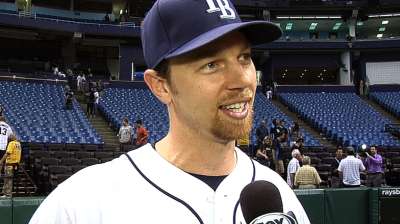 NEW YORK -- Rays manager Joe Maddon has never been a proponent of expanding rosters to 40 players in September, having noted earlier this season -- and in years past -- that he felt there should be at the very least a nightly limit on how many players can be active for any given game during the month.
The Rays' active roster currently sits at 37 players, and Maddon managed a smile about his using the extra players to the team's advantage.
"While it's there, you've got to utilize it," Maddon said. "We've talked about that in the past. Again, there has to be a lot of thought put into that regarding the number of people who are active, because even on an expanded roster, you're going to include starting pitchers, so how are you going to deal with that thought regarding the number that are active on a particular day? So I think moving forward, you're going to see [a limit] eventually. Right now it's benefiting us, but there are times when it can hurt you, too."
Maddon was asked if he felt more like a football coach, given the size of his roster.
"I can't deny that it's kind of nice," Maddon said. "But a part of this, you get a bunch of guys and have this large of a number and you're afraid to utilize them. We have a large number we're not afraid to use because you feel like they can contribute and they're not overwhelmed by the moment."
Bill Chastain is a reporter for MLB.com. This story was not subject to the approval of Major League Baseball or its clubs.