Keppinger to have shoulder surgery Thursday
Keppinger to have shoulder surgery Thursday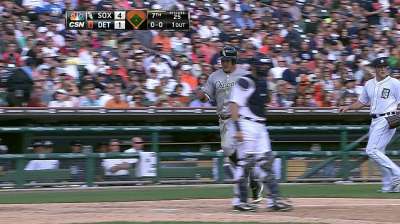 CLEVELAND -- Infielder Jeff Keppinger will have exploratory surgery on Thursday on his right shoulder, which has bothered him "off and on" throughout the season, manager Robin Ventura said Tuesday.
"It wasn't continuous where he couldn't use it," Ventura said of Keppinger, who hit .316 in August and .306 in September. "Hitting-wise he was fine. But any time you put him out there in the field for an extended period of time, it would start to creep up on him.
"Clean it up, and make sure he's ready to go in Spring Training. It's more, at the end of the year, trying to get everything set up for next year. So if something's in there, he'll get it fixed now rather than later, in a couple of weeks. Apparently, I overused him in the last weekend."
Keppinger, 33, was the White Sox's primary offseason addition, brought in on a three-year, $12-million deal as a free agent. He earned $3.5 million in 2013, with his yearly salary going up to $4 million in 2014 and $4.5 million in 2015.
The original plan for Keppinger was to take advantage of his exceptional bat-handling ability as the team's No. 2 hitter and use his versatility throughout the infield. He came into the season with significant time played at second base, shortstop, third and first base.
But after a stellar Spring Training effort, Keppinger hit just .199 through May 20 and didn't draw his first walk of the season until May 16 against the Angels. But in a season full of disappointment, Ventura certainly won't pin the year's shortcomings on one player.
"Nothing's pinned on him. It started off slow, just like we did, and it just never bounced back," Ventura said. "Lately, he's been swinging a lot better. His at-bats, minus the first part of the year, he had a pretty good year as far as doing what you would think, putting it in play and tough at-bats, and even in the last week he had some.
"That's kind of more of what you would expect of him, and there was more of that toward the end of the year than it was in the beginning. Like everybody else, you just want to forget about it and get ready for next year."
As for next year, the man who produced his lowest single-season average of a solid nine-year career at .255 is viewed more as a super utility player in 2014, as he was coming into this season.
"He can play pretty much all over the infield and fill in," Ventura said. "He's versatile enough where you can kind of pencil him in different spots. I don't know what we're going to look like in Spring Training, but it's nice knowing he's versatile enough that you can move him around in different spots and have that as an option."
Scott Merkin is a reporter for MLB.com. Read his blog, Merk's Works, and follow him on Twitter @scottmerkin. This story was not subject to the approval of Major League Baseball or its clubs.